Friday, September 14th, 2007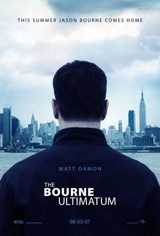 The Bourne Ultimatum
——————————
Snapped bones make music.
A fight scene in a bathtub
kicks all our asses.
Morocco, Moscow,
New York, Spain. All share one trait:
People die when killed.
Faces are to hide.
A door is for kicking in.
A fist is to break.
Damon and Affleck:
they started in the same place.
That place is gone now.
Delirious
————-
Really great Prince song.
Really terrible movie.
Twenty years later.
In 34 years,
I've walked out of 6 movies.
This was one of them.
Buscemi can act.
I'm not saying otherwise.
But, he can't save this.
Jeff Stern is a Boston-based filmmaker, screenwriter and actor whose work has screened at the Woods Hole, Olympia, New Hampshire and Boston Underground Film Festivals, among others. He is the co-producer and host of Open Screen, a monthly forum for independent, underground films held at the Somerville Theatre in Somerville, MA. In January 2009, he finished production on the independent feature film "Good Work," in which Jeff stars as Jason. In summer 2009, Jeff co-produced and starred in the independent feature film "Party Like It's a Verb." Both films are currently in post-production. Jeff currently plays in the band The Avon Barksdale. He is also a lifetime member of the musical baseball ensemble, The Farmhands. Jeff works at Bentley University, where he teaches Media Production. He lives in Cambridge near a bunch of baseball diamonds with his wife, Anna Goldsmith, and son, Leo Coolidge.