Wednesday, August 8th, 2007
I bought Orson Welles's last movie, F for Fake, about 6 months ago.  It was one of those movies with the classic story: it wasn't received well at the time, but has found a new appreciation lately, culminating with a Criterion DVD release.  Over the last 6 months, I hadn't had any time to watch it, but I finally got around to it, and it was fantastic.  It was a little hard for me to get into for the first 5 minutes, and throughout the movie there were a few times when I nearly said aloud, "Welles is SO full of himself."  Something about the non-traditional style of editing and storytelling could be mistaken for pompous, or elitist; indeed, even the crowd of people that Welles is both documenting and hanging out with through the film seems like a bunch of nancies.
Yes, that picture is a real scene, and it's real dialogue from the movie.  Like I said — total nancies.  "Steak au poivre?"  Give me a break.  There was, however, a chance to overlook these faults.  The story is so interesting that you can choose to forget about how awesome everyone thinks they are.
The documentary focuses on a guy named Elmyr deHory, who was an amazing art forger, mimicking styles, almost any style, so well that the art dealers themselves couldn't distinguish between Elmyr's and the artists' works.  It ties in other notorious fakers of the time, from the biographer who did a purposely poor job purporting facts about deHory, to Welles himself (notorious, of course, for his War of the Worlds radio broadcast).  The documentary, even, could be considered something of a fake, considering the manner in which is blends arthouse editing techniques, and even creates faked dialogues between people in the movie ("A mere technicality!" screams Michael Moore).
But there are many interesting questions and themes to pull out of it, and it was these that made the movie very much worth the watch.
At one time, Welles mentions that "you could take one of deHory's faked paintings to an art expert and say, 'This is a fake version of Modigliani.  Can you tell?'  And the expert immediately goes into saying, 'Yes, of course.  Modigliani would never have the line of the arm parallel to the body like this, and the background is too boring.'  Take the same painting to another supposed expert, and tell them that it is a real Modigliani, and how can you tell, and he will immediately start using those same elements to support it being by Modigliani."  And then would offer to sell it.
So what are experts really experts of?  Why isn't an artist who can mimic a style that well an artist himself?  And then, of course, what is art?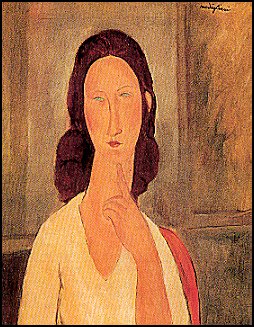 The above painting is by deHory, and the lower one is by Modigliani.  By claiming his paintings were original Modiglianis, Picassos, etc., deHory was able to have them hung in museums all over the world, and they've fetched thousands of dollars.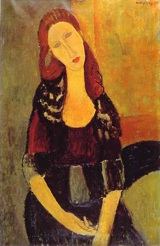 Just the character of deHory, and how incredible an artist he is, is astounding and makes F for Fake worth the 88 minutes you'll spend watching it.  After studying artists as closely as he has, deHory can tell so much about the artist's style…things you would never know, such as that one artist "was hesitant in his line making.  I've had to make my hand more hesitant to mimic him."
Wells is a master of storytelling, and did a great job in his last film.  If you can get by the almost-experimental editing style (quick cuts, bits of dialogue stuck in to progress the narrator's conversation with the viewer, etc.), it's a very enjoyable hour-and-a-half.