Thursday, March 6th, 2008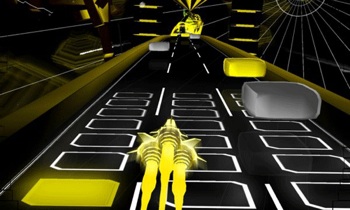 I've always thought that rhythm games were meant to teach you something about whatever subject the game is based in. In DDR, you learn foot placement memorization and rhythm which is key to dance. In Guitar Hero, you learn how a string on a guitar works. In Rock Band, you actually learn how to play a basic drum set.
Audiosurf takes an entirely different route. Instead of being an instrument or rock star simulator this game let's you simulate what it's like to be a true music listener. You aren't part of the band. This game is more like sitting at home with headphones on, reading liner notes and letting the music take you somewhere you've never been. Sure, there's a game involved, but the game itself is barely the point.
I guess I should explain the game before I tell you why I don't care about it. The game takes any song that you give it and creates a track for your spaceship to fly on. On each track, there are squares that show up based on whatever is the loudest part of the song and those are the game pieces. Depending on which mode you play, the pieces will have different colors and below your spaceship, there is a Klax-like area that fills up with the pieces that you fly into. You have to match the colors to make them disappear and I'll let you guess what the magic number of pieces needed to complete a set is.
In addition to the placement of the pieces, the actual track itself is created to fit the rhythm and that's where this game really shines. As you are playing a song, the BPM of the song can make the track go up or down and, thanks to the awesome game engine, it actually corresponds with how the song wants you to feel. For instance, when a song is building up to a climax – maybe the drums are slowly getting louder, or they keep adding instruments until the singer explodes on the track and you can't control your body – the game's track is structured like a roller coaster. You keep going up and up the track and when that singer explodes, it's all downhill from there.
That's what makes the game so great. Audiosurf allows you to listen to your favorite song like it's the first time you've ever heard it, but with that intense feeling of knowing exactly when it's going to move your soul. You've heard the song a million times so you know everything about it, but it all feels new again. If this game teaches you anything, it teaches you how to listen to your music. The fact that a song doesn't end when you make a mistake proves that the game knows it's purpose.
That's why I don't really care about the game aspect. I had some fun playing with it but I was more interested in the "Freeride" mode which just lets you ride on the track without worrying about points. I usually have the hardest time explaining to people what makes a song move me so much. Now, whenever I'm having a hard time again, I'll just forward them a video of me playing the song in Audiosurf.
Nathan Smart lives
here
. That's all you need to know.