Monday, March 8th, 2010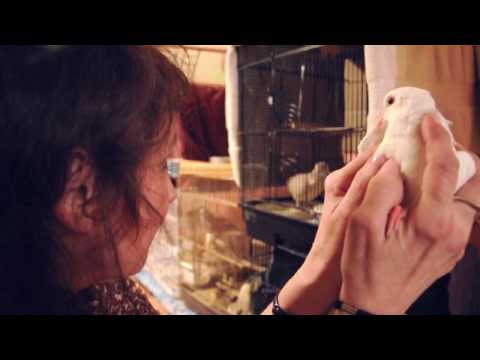 In early February 2009, I received an email about a woman who had contacted my church asking for help. She had lived in the same apartment for 24 years (might have been more), and was suddenly forced to move because the landlord wanted to remodel the home and put it up for sale.
Monica was still recovering from a back injury sustained when one of the rotten floor boards of the porch gave out under her, and basically lived on her own, so she needed a lot of help. Not to mention she had two greyhounds, some cats, 40+ rescued pigeons upstairs, and 24 years worth of accumulation.
It looked like World War II. Piles and piles of stuff everywhere. It was impossible to distinguish garbage from non-garbage. She was completely overwhelmed. I would have been too if it weren't for the fact that Monica was an incredibly interesting woman.
Whenever I had the chance, I asked her about her past. She was always glad to share and told me about her catering business in the '80s, how she got to hang out with tons of bands and entertainers, which included her touring with Heart for several years.
Toward the end of the day, Monica took my friend Alex and I upstairs where we met her 40+ pigeons and doves that she had rescued over the years. A bell went off in my head and I asked her if she minded if I ran home to get my camera. She didn't mind at all.
This is a portrait of Monica and her birds at the time of her move.  I hope you experience it.
Tom DesLongchamp is an artist and animator based in Seattle. His work can be seen at tomthinks.com.