The Gonzo Art of Houston, Texas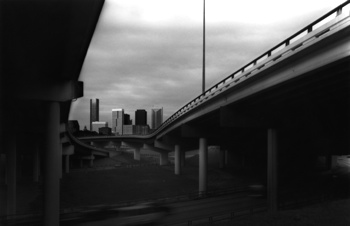 Houston is a marvelous expanse of city. It is second in the nation behind New York for number of theatre seats in its downtown theatre district. It boasts a fantastic collection of museums designed by some of the greatest architects of the 20th century. It is a city of great restaurants, great patrons, and great wealth and industry.
Hunter S. Thompson, jaded and high, once described Houston as "a shabby sprawling metropolis ruled by brazen women, crooked cops and super-rich pansexual cowboys who live by the code of the West — which can mean just about anything you need it to mean, in a pinch." And as such it may be at times. But one thing is certain — the wet summer heat, the laissez faire approach to development and the lack of zoning ordinance has made a place that is fertile ground for Gonzo Art. What is Gonzo Art, you may ask? Visit a few of these favorite lesser-known Houston anomalies of the art world, and perhaps you too will come to know:
The Orange Show
Jefferson Davis McKissack was a man who believed that hard work and good nutrition were the secrets to a long and productive life. Beginning in 1956, he began working with found materials to manifest a vision to extol the virtues of the world's most pure and perfect fruit – the orange. He worked in isolation until his death in 1980, leaving us 'The Orange Show,' a visionary masterpiece of good advice and whimsical construction. It is difficult if not impossible to justify the visual feast which is The Orange Show in a few mere words in a blog. I recommend a Flickr search, or even better – a visit!
The National Museum of Funeral History
Feeling a little goth? At The National Museum of Funeral History you will find many ways to celebrate your mortality. Their motto reads, "Any day above ground is a good one." Words to live by – literally. Perhaps fantasy coffins are your thing. Maybe you've always had a penchant for the quality preservation of the dearly departed. Then you are sure to enjoy the makeshift 'Civil War embalming tent of Dr. Holmes' diorama, the relocated John F. Kennedy Eternal Flame, and the 1860 German Glaswagen funeral coach.
The Beer Can House
John Milkovisch re-clad his home with aluminum siding — 12 ounces at a time. John retired as an upholsterer from Southern Pacific Railroad in 1968 and began working exclusively in the medium of beer cans around 1970. He did not consider himself an artist, yet aspects of the house such as "The Ladder to Success" and "Culprit" are conceptual conundrums which require due consideration. The Beer Can House is currently being restored, and will hopefully be draped in its lovely can-top carillon again very soon.
The Flower Man
You might catch Cleveland Turner, Houston's "Flower Man," riding his famed Flowercycle to an AA meeting or on a wander in search of worthy junk. From homeless and near death, Cleveland had a vision – a self-described 'pretty whirlwind of junk.' He made a pact with God to stay sober, and he has been assembling his vision in Houston's Third Ward ever since.
The Art Car Museum
Also known as the "Garage Mahal," the Art Car Museum serves as the home to some of the most fantastic vehicles of the Houston Art Car Festival as well as some fine changing visual art exhibitions. Shows with themes such as 'rust as an element of expression' or fine art paintings of international gas pumps take the postmodern consideration of all things automotive to the level of high art.
The Art Guys
The Gonzo Art of Houston is as much about the artists as the places and things they have created. The Art Guys are Michael Galbreth and Jack Massing, and they have challenged the world of performative art with irreverence and a deadpan humor that appeals to the everyman. I first encountered them at a posh art event in Houston when they were performing "Suits," a performance piece where they sold advertising space on their suits to corporations. They were also switching long-distance service to any phone company that solicited an offer. Other mediums and themes of choice for The Art Guys include suitcases, taxidermy, fire, multiple coats of paint, beard works and product testing, to name a few. Catch The Art Guys in Houston or wherever they may be lighting matches under the white tower.
Houston is a menagerie of strange and wonderful art. On your next visit, take some time away from the institutions. Have almeurzo at Taqueria La Tapitia on Richmond Avene and Google-map yourself a Gonzo Art tour.
The Orange Show: 2402 Munger Street (www.orangeshow.org)
The National Museum of Funeral History: 415 Barren Springs Drive (www.nmfh.org)
The Beer Can House: 222 Malone Street (www.orangeshow.org/beercan.html)
The Flower Man: 2305 Francis Street (formerly 3317 Sampson Street)
The Art Car Museum: 140 Heights Boulevard (www.artcarmuseum.com)
The Art Guys: location varies (www.theartguys.com)