Like, Totally Awesome!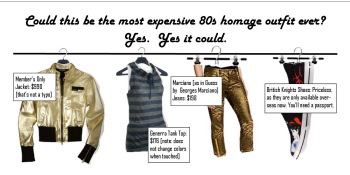 Oh, remember how great clothes were in the 80s?  Tight-rolled jeans, overalls with only one strap buckled, shoulder pads in everything, clunky sneakers – those were the quintessential looks of the Reagan era.  Almost makes you want to go back in time.  But not really.
Many brands that were huge in the 80s fell out of fashion in the 90s, though, as designers Rei Kawakubo, Helmut Lang, Jil Sander and Yohji Yomamato defined that decade with their stark minimalism.  No more Crayola-colored high tops, no more pastel layers, no more gobs of gold jewelry.
But as with all things, fashion is cyclical, and two decades is long enough for any trend to come back around.  More interestingly, some major name brands from the Decade of Excess have even been revived and reinvented as "luxury" labels.  You know what that means, right?  Now they cost a whole lost more money!  Awesome!  But I guess that's really the spirit of the 80s, right?  I mean, anybody who could afford to carry around a shoebox-sized mobile phone certainly did.  And good for them.
It is in that spirit that I've put together the perfect "80s Homage" outfit.  Check with your broker first to make sure you can afford it (I'm sure you can) and then tease your hair for a night of fashion flashback perfection.  And if you're nice to me, we'll watch The Breakfast Club together tomorrow night.
Filed under: fashion