Where are the brackets?!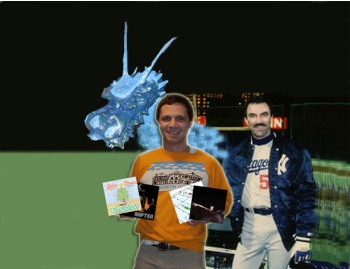 Where are the brackets?!
July, my friends. July. There were more than a few imposters this year. There was one with sixty five(?!) basketball teams, and one from one of last year's competitors even! Please Susan Powter!
Either way, I've been rising with the sun for weeks. The C.L. Marines look real good again, and it was a pleasure to sit down and have a burger with Bobby V. when I ran into him.
Pedro Martinez was talking to reporters the other day in Port St. Lucie about the change in expectations for today's pitchers. "I can't help what others think…I prepare myself for nine innings, if I can't go nine innings the bullpen will pick me up. The days that I have to pick up the bullpen and take one in the eye for the team, I'll do that. I'll do that for the team."
When Cousin Danny stopped by in the fifth, Dice K looked a heck of a lot better than he had over the first two innings (2 Runs, 4 Walks, 1 Hit By Pitch, 1 Wild Pitch). Matsuzaka's final line of 5 IP, 2 Runs doesn't look too bad, and Manny Ramirez got him off the hook for the loss in his homecoming with a two run, double down the line. Moss delivered the possible game winner for Daisuke after Lowell's strikeout with a long single to right, scoring Ramirez. J.D. Drew was a late scratch with lower back stiffness, and Moss took full advantage.
Manny Ramirez and Jack Hannahan, in the bottom half of the inning, displayed the exact workmanlike approach required for the long grind ahead. They're going to be doing this about 161 more times in the next six months. Now if Dice K could have only gone one more inning.
Mark Ellis might be the best all-around second baseman in the game that you forget to name in that group of Polanco, Hudson, and Castillo who impact the game on both sides of the ball. Chavez was that kind of player at third at one time.
Ellsbury made another few fans in New England with his leaping grab in the eighth. As if he needs more!
Moss tied it in the ninth. Okajima looked good in the bottom half. Ramirez won it, of course in the tenth. And Papelbon looked as shaky as Huston Street, but with more room to work.
Intrepid sports correspondent Johnny Bob communicates exclusively via an Asthmatic Kitty issued blueberry device.
Filed under: sports