Maps and Legends
I'

ve never had the true and honest urge to buy everything in a store until walking into Little Otsu in San Francisco's Mission District last summer. It's not just that Little Otsu's calendars, journals, cards, buttons, and planners are equal parts earnest and inventive. It's that you can tangibly sense how a community of artists and friends have influenced the accessible, home-spun aesthetic owners Yvonne Chen and Jeremy Crown have built into their business. Using alternative materials like soy-based inks, wood-free papers and sweatshop-free materials, Yvonne and Jeremy relocated a few hundred miles north to Portland last fall to develop the publishing arm of Little Otsu. In addition to running their Valencia Street shop with help from friends, the couple is now focusing full-time on production and sales from their Oregon home.
Sara Billups: Portland, Portland, Portland. If you like to make things, or like made things, and live on the West coast, seems like Portland is this diamond-studded dangling carrot. What about the place did you find enticing enough to make the move there from San Francisco last fall?
Little Otsu: We'd been thinking of moving to Portland for the better part of the past decade and even had a store here in 2004. We came to get to know it better during our trips up here for the store. We have good friends here and love how relaxed and vegan-friendly it is. Finally, it just felt like the right moment for us to try it. We actually live about 10 blocks from where our store was, so we ended up back in the place we started, so to speak.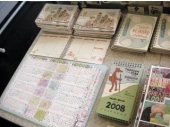 SB: Any favorite Portland spots to share?
LO: The vegan mini mall at the corner of 12th and Stark Street in Southeast. A bunch of our friends all moved their businesses there so you have a grocery store (Food Fight), the only vegan bakery on the west coast (Sweet Pea), a vegan boutique (Herbivore), and vegan tattoo shop (Scapegoat). We also love all the trees and parks here and plan to explore more, but highlights so far include Mount Tabor, Kenilworth Park, and the Audubon Society Bird Sanctuary. Plus Jeremy's favorite bookstore is Paper Moon on SE Belmont. Reading Frenzy, Floating World Comics, and Guapo Comics are also great.
SB: You're keeping your store front in the Mission. Tell me a little about how Little Otsu fits into that neighborhood's creative culture.
LO: We opened our store in October 2002 and there were always things happening in the Mission and it seems like there always will be with huge creative forces around like 826 Valencia and Creativity Explored, just to name a couple. We know some fellow business owners from the indie music scene and that seems to make for its own subculture of Mission businesses (Faye's, Aquarius, Lost Weekend). We kind of fit in with that culture in the sense that it was born of indie diy and that we have evolved to express our creativity by becoming a producer of things. And of course there are our officemates McSweeney's who set a great example of how to get things done. They serve as a paragon of productivity and inventiveness and inspire us to work hard at what we do.
SB: You have this very distinct aesthetic—it feels both keepsake and home-spun, yet accessible. How has that evolved?
LO: It's hard to talk about our aesthetic except to say that we really try to focus on publishing artists that we really like. We're not dogmatic insofar as defining a look for our projects. We are pretty open to what artists bring to the table, but we definitely know what we like and what we don't when we see it. We have no formal art schooling whatsoever so it really is just kind of a gut thing. But we also make an effort to keep in mind what our general audience would like so maybe that's what helps with the accessibility.
SB: How has Little Otsu formed a community of artists over the years?
LO: We feel really fortunate that we've been able to meet all these amazing artists through our store. Most of our artists were customers or vendors or friends thereof. Being a public space in a busy city seems to lend itself to a natural outgrowth of community. Everyone knows each other or are only a few degrees apart and it makes for a nice extended family.
SB: Do each of you take on a certain part of the business?
LO: We definitely each have our own jobs we do but there is a lot crossover as well. Yvonne does most of the buying and bookkeeping and nitty gritty stuff like project specs and production. Jeremy focuses more on artist relations, project and website development. We both fill orders, help customers, and answer email. And a good chunk of our time is spent just thinking of ideas for new projects, business development, and the store. Brainstorming can be time-consuming!
SB: Do you think Etsy has helped or hurt creative businesses? Could it be over-saturating the market?
LO: Etsy is a great thing! It helps people start small and have an audience, which is important. Anybody can have a business and Etsy helps them do that. Not everything is good on the site of course, but that's also part of having a space that isn't curated by a buyer. Personally, we like going to a store that's curated really well and prefer that to having to dig through lots of stuff to find what we're interested in. But sometimes it's like going to a thrift store and finding that perfect pair of pants, it can all be worth it. Has it oversaturated the market? I don't think so only because the good stuff tends to rise above the rest and the market works itself out (more or less). And everyone's tastes are so personal that it's nice to think there's something for everyone.
SB: Are you together together, or just business partners? I'm wondering what challenges there may be working creatively, daily with a partner.
LO: Yes, we're a couple and have been together for 8 years. Working together is actually really great and has only gotten better the more time we spend together. We can definitely disagree about things, but that's also what tends to make our work (or life or whatever) better. Plus, you can talk about work at dinner and not bore the other person. There seem to be more and more couples doing indie businesses together and when you're working with your best friend and partner, it just makes work all that more enjoyable and rewarding.
SB: A lot of people have ideas about starting projects but either never begin or don't follow through. With Little Otsu, you've done both. What helped you take the risk?
LO: We really like working for ourselves and that's a big incentive. Honestly, there is a real thrill (for lack of a better word) when you have the finished product in your hand. Plus we've gotten to work with great people and it makes working so hard fun.
SB: What did you want to be when you grew up? Does it seem like LO grew out of childhood aspirations or is it something that took you by surprise?
LO: We both did zines when we were younger and it had a pretty lasting impact. Yvonne worked on the zine-turned-label Zum with her brother George and Jeremy had a small publishing company in high school called Smock Publications, putting out his own zines as well as zines and books from his friends. While we had a passion for it, neither of us thought that this is where we would end up, but now that we're here it feels like a natural fit.
SB: Sometimes I'm afraid that if I plunge in to a creative project that could also be a main source of income, I'll end up resenting it in this way. Like the reason I love creative projects is because they are these really great sides, like they're mashed potatoes and not the turkey dinner or something. Do either of you struggle with being creative while having a creative business, and does it ever feel too much like work?
LO: Running your own business is always too much work. But it all comes down to how you want to spend the bulk of your life. What do you want to be doing all day long? For us, working together on things we believe in and with people we believe in and using materials we believe in all makes it seem worth the time. We are lucky for sure, but it's a good way to spend time. As far as sides, you gotta do that too to get away from business and we both do other creative things that we share with ourselves and friends and family. We also both love to read and go bird watching (which we are novices at for sure, but it's so much fun).
Info and on-line store at http://www.littleotsu.com
Sara Billups writes the blog Weatherspoon, a diary of living alongside the weather in the Great Northwest.
Filed under: interview