Robert Hardgrave

"samael"
Robert Hardgrave's very name is ironic. His paintings spill over with life, and the lines between plant and animal and human are loose, abstracted into a riot of graceful color and line. "A lot of my work is about reincarnation," he says, and refers to his own kidney transplant. He doesn't know who the donor was, but "he's still living, in a way," he says, as he points to his own body.
"Communion"
The exuberance of a Robert Hardgrave painting is the first element I confront when standing next to one. His compositions bristle and bulge in an over-packed swirl; one thing leads to another, and the longer I linger, the quieter they become. Much like looking at a bustling city street, or lush woods in summer, the first effect of multiplicity gets honed down by a quality of attention. People-watch or seed-examine, and you're able to understand more of the full picture. So, too, to slow down into a Hardgrave painting is to discover his irrepressible enthusiasm for nested forms and enfolded pattern; calligraphy, graffiti, folk design, comic books and plant-life. Lines are painted with agile confidence that can only come from an awful lot of practice and the joy of the process.
Because illness and recovery have been significant turning points for Hardgrave's practice as an artist, in subject matter, but also sheer pragmatics (when he was ill, he didn't have the energy to complete enormous complicated canvases)—he almost apologetically admits that it seems like all of his paintings hang from one event. But when, on a recent studio visit, we talked about the big-picture themes of life, death, fecundity and resilience, he nodded emphatically. Robert Hardgrave makes visible the tension between the awe and terror of living life in a body—something we all can understand when confronted with the body's fragility or impressed by its elasticity. And he also touches on questions whose answers remain elusive—are we fully contained in our bodies? Where do we begin or end?
"Colophon"
f you're in the Pacific Northwest US, see some of Robert's paintings through the month of February at Lawrimore Project, Seattle. His site is here.
A video interview: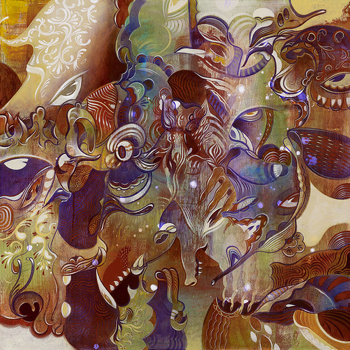 "Nonverbal"
Gala Bent is a mother-artist-teacher living in Seattle who enjoys, among other things, this thought: between thesis and antithesis arcs the ever-loving synthesis. www.galabent.com