Perfect Christmas Mixtape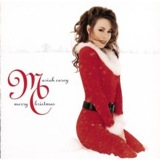 Christmas, rowdy Christmas.
1. Gayla Peevey "I Want a Hippopotamus for Christmas" Ever heard the Bunky version? I don't know if it's recorded, but it'll melt your heart and make you feel rambunctious without compromising your cool sense of composure. The fact that Gayla was 10 years old when she sang this one (in 1953) makes it all that much better. The B-side of the single was "Are My Ears on Straight?" I haven't heard that one but I imagine it's life-changing. Gayla Peevey is life-changing.
2. Vince Guaraldi, Charlie Brown Christmas soundtrack "Christmastime" After the rowdiness of Gayla take it down a notch with the somberest of somber Christmas songs.
3. Elvis "Blue Christmas" It's too bad Sublime had to ruin the word "sublime" because this is sublime. I have a pin that reads "I am Elvis." Really don't know what it's supposed to mean.
4. Mariah Carey "All I Want for Christmas is You" Let's get rowdy again. Let's stay rowdy.
5. Mariah Casey "Oh Holy Night" This mixtape should just be Mariah's Christmas record put in a different order, but then it wouldn't be a mixtape. "Oh Holy Night," in general, is my favorite Christmas song. A good version gives me chills and this one is the best I've heard. Don't mock it until you've spent some time with it. Mariah BELTS it out.
6. The Beach Boys "We Three Kings of Orient Are" Do NOT seek out the "1991 remix or trouble will befall you.
7. Sufjan "O Come, O Come Emmanuel" (2001 version) Goes dead-set perfect following the Beach Boys track.
8. The Pogues "Fairytale of New York" Find a good live version. This one makes me shake my head and go, "That's how it is."
9. Jingle Cats "Silent Night" People talk a lot about psychedelic music. THIS is psychedelic music. The rest just tries to be this good. Your fortune cookie message: Play it around a dog and your life will become more interesting.
10. Bruce Springsteen "Santa Claus is Coming to Town." Start it rowdy. End it rowdy. I generally don't like the Santa-centric Christmas songs, but this is the happiest song ever.
BIO: Adam Gnade's (guh nah dee) work is released as a series of books and records that share characters and themes; the fiction writing continuing plot-lines left open by the self-described "talking songs" in an attempt to compile a vast, detailed, interconnected, personal history of contemporary American life. Check out recent writing here and songs here. Contact: adam@asthmatickitty.com
Filed under: music