Taqueria Los Gorditos, Portland, Oregon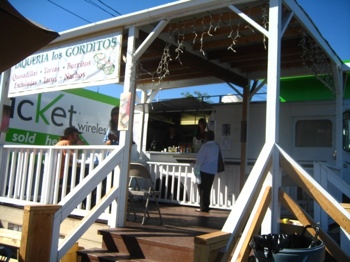 I grew up in Southern California amidst all the taco shops and summer boutiques and beach traffic and taco shops and Santa Ana fires and taco shops and taco shops. If there's one thing Southern California is downright avid about (besides gentrification) it's Mexican food. We're good at it. In fact, I'd venture to say we're pretty much the best.
I don't live in Southern California at the moment; I've spent the last few years living everywhere but.
I've had Mexican food in Scotland (couple weeks ago), Virginia (nevermore), Seattle and New York City (always bad) and all over the South (don't even try.) It is, almost as a rule, terrible. Actually, it is a rule. Ask anybody from Southern California and they'll tell you Mexican food more or less blows everywhere else; that the beans aren't right and the tortillas taste chalky, that the fillings are always mis-proportioned, and that the general cosmic vibe falls right in the mud. Scotland had chickpeas in their potato tacos. Portland, where I live right now, is a total joke—besides Taqueria Los Gorditos.
I flew back to Portland yesterday after a couple months on tour and the first thing I did was stop at this new taco cart on 50th that all my friends have been telling me about, Los Gorditos. I feel kind of dirty saying this, but they totally slapped down half the places I love back home. It actually scared me a little, made me feel as if everything I grew up believing about Mexican food was a farce—or worse, Southern Californian hubris.
The big winner for me was they got the beans right. Incredible beans. Refried—dark but not black—kind of gamey but without lard. Also, they understand the basic (but oft forgotten) tenet that tacos should be double-wrapped with two corn tortillas—and small ones, steamed, just like the al pastor carts in Tijuana.
It was cheap too. Buck fifty for a taco, $3.50 burritos, $5 for mulitas, quesadillas, nachos, and enchiladas. Four buck tortas.
The vegetables they used were cooked fajita-style, onions and bell peppers, soft and mildly spicy. The rice had a little garlic sauce. There was iceberg lettuce in the garnish but not too much.
Also, I'm vegan, so to pull off Mexican food, you really have to give it a heavy go. Heavy go being: a huge vegan menu with tofu tacos, soyrizo (soy chorizo) tacos, vegan nachos and quesadillas, lots of cilantro, fresh avocado, affordable sides of Follow Your Heart faux cheese and Tofutti sour cream, and big portions. There's also a meat menu and a vegetarian menu, but the vegan one won me over somethin' fierce.
Los Gorditos is run by a nice local family and I feel great giving them my money. In this era of corporate behemoths and cross-market monopolies, it's reassuring to know where your money is going, to lay down that five bucks you got because some kid was good enough to buy your CD at the merch table and see that five bucks go to real people. The family that runs Los Gorditos aren't looking to fleece anybody, they're just kicking down and providing a joy older than iPods or direct TV or even race cars or guns. Great, healthy, filling, substantial food, stuff that keeps you alive and fighting another day. Which, in the end, is what it's all about.
If you visit Portland, go to Los Gorditos. They're on the northwest corner of SE 50th and Division across the street from the secondhand clothing store to the south and Plaid Pantry to the east. Their hours are 11am-9pm Monday-Saturday and Sunday from noon to 3pm. Call 503-875-2615 for to-go orders.
BIO: Adam Gnade's (guh nah dee) work is released as a series of books and records that share characters and themes; the fiction writing continuing plot-lines left open by the self-described "talking songs" in an attempt to compile a vast, detailed, interconnected, personal history of contemporary American life. Check out recent writing here and songs here. Contact: adam@asthmatickitty.com