BQE Detritus, as found during the NYPD 76th precinct BQE patrols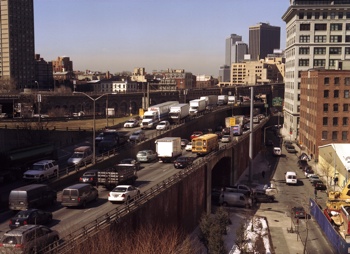 Brooklyn! Queens! Here lies your detritus, as found during the NYPD 76th precinct BQE patrols:
1. Your cloth-and-speckled-rubber dot work glove, which lasted through two weeks of day-labor construction gigs, jobs you got while standing at the corner of Flushing and Classon Avenues inhaling the sweet odors of BP Petroleum tankers rumbling over your head.
2. Your action figures. Bendy Spiderman with bite marks, former fascination of your teething toddler?
3. Your wedding album! Photos of you and your man together, a lovely African-American couple, seeming happy… but perhaps the album is a record of a day that was something less than your dream, a union that was something less than forever? Picked up by the NYPD, and the cops can't help but wonder: what happened in your car that day, as you sat in traffic with your bumper pressed against another? What became of your memory then?
4. Your cane. Why walk, when you can drive the BQE!
5. Your chicken nuggets, half-eaten. Did you finally come to terms with industrial food, and think better of your culinary choice? Or did you simply overindulge on the special limited edition McRib and run out of room for deep-fried chicken byproducts?
6. Your used plastic water bottle, now holding mysterious yellow liquid. Perhaps Robert Moses should have considered rest stops?
7. Your dead cat. Actual dirt in which to bury things is at a premium in Brooklyn after all. Perhaps cremation was too expensive?
8. Your mattress. Leave your bedding on the BQE, and the bedbugs most definitely won't bite.
9. Your Chinese menu. Apparently, you weren't quite dexterous enough to hold the menu, dial the number, and dodge the Geo Metro that so rudely cut you off.
10. Your tricycle
11. Your car tire
12. Your wicker chair
13. Your dead goldfish
14. Your Chinese menu
15. Your driver's license
16. Your seat cushion
17. Your screwdriver
18. Your milk carton
19. Your comb and brush set
20. Your running shoe
21. Your romance novel
22. Your dinnerware
23. Your grill
24. Your air conditioner
25. Your volleyball
26. Your Nerf ball
27. Your stuffed animal
28. Your condoms, used, unused
29. Your coffee cup
30. Your car seat
31. Your dead squirrel
32. Your bike pedal
33. Your fan
34. Your stapler
35. Your hutch
36. Your old purse
37. Your half-eaten donut
38. Your house key
39. Your shell casing
40. Your jewelry
41. Your wristwatch
42. Your toy airplane
43. Your Wiffle ball
44. Your briefcase
Filed under: main