The BQE – Who's Who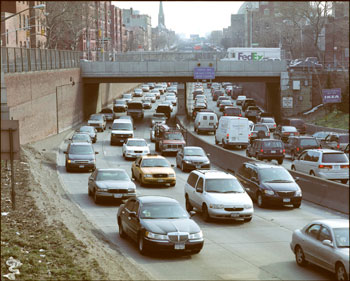 The following is a list of those able bodied souls involved in the performance of The BQE at BAM:

Alan Hampton (bass) studied Jazz Performance at the New School and was at The Thelonious Monk Institute at USC, where he found opportunity to study and perform worldwide with jazz icons such as Herbie Hancock, Wayne Shorter, Jack DeJonnette, Clark Terry, and many others. He graduated from The Thelonious Monk Institute in 2005 and returned to New York where he has found himself in a variety of musical situations.
Alex Sopp (flute) lives, loves, and plays all genres of music in New York City. She performs, premieres, and records with NOW Ensemble, Philip Glass, The National, Nico Muhly, The Knights, and ACME, and recently appeared with the New York Philharmonic and the Mark Morris Dance Group Music Ensemble. Sopp is a graduate of The Juilliard School where she studied with Robert Langevin and Carol Wincenc.
Amie Weiss (violin) plays with the Knights Chamber Orchestra, Allsar Quartet, Columbia Composers, and the improvisation group, Eunoia. In the past year, she toured internationally with the Bill T. Jones/Arnie Zane Dance Company, Youth Orchestra of the Americas, and Ensemble 21, and appeared on The Late Show with David Letterman and Late Night with Conan O'Brian with singer Teddy Thompson. The 2007—08 Season includes performances at the Museum of Biblical Art in Manhattan, National Gallery of Dublin, The Stone, and The Seattle Rhetoricians Union.
Arthur Sato (oboist) appears regularly with Cygnus Ensemble and Second Instrumental Unit and has collaborated with Herbie Hancock and Alicia Keys. In 2006, he was chosen as a founding member of The Academy, the resident chamber music and outreach ensemble of Carnegie Hall. Sato has performed as principal oboe in The Juilliard Centennial Tour Orchestra and Richmond (IN) Symphony, and has appeared with Oregon Symphony and Haddonfield Symphony. He holds a Master of Music degree from The Juilliard School, and a Bachelor of Music from Indiana University's Jacobs School of Music.
Benjamin Lanz (trombone) has toured and recorded with Sufjan Stevens, performed, arranged, and recorded with My Brightest Diamond, performed with the Kennedy Center Opera Orchestra, and has given two solo recitals, as well as performed with many other prominent musicians and groups this past year. He is associated with the contemporary music ensembles Companion Star: For the Living and the Dead (including an annual residency at Mälardalen University in Västerås Sweden); ensemble, inc.; and Magnetic North and is currently working on projects focused around the expansion of solo trombone repertoire through the commissioning of new works by young composers. Lanz completed his Doctor of Musical arts Degree at Stony Brook University in spring of 2007.
Beth Meyers (viola) performs in janus (flute/viola/harp trio), QQQ, (a Norweigen folk music-influenced quartet), and Clare and The Reasons. She also sings the music of Steve Reich with So Percussion and Alarm Will Sound. She lives for good new music, good food, and the great outdoors.
Casey Foubert (guitar, vocals, piano) is a multi-instrumentalist, engineer, and producer who lives in the Seattle area. He has toured and recorded with Damien Jurado, Richard Swift, Sufjan Stevens, Jeremy Enigk, TW Walsh, Crystal Skulls, Rocky Votolato, and Pedro the Lion.
Corrina Albright (viola) is a graduate of the Eastman School of Music. She is heard frequently with such diverse groups as DiCapo Opera, Chelsea Opera, Paragon Ragtime Orchestra, Ionization New Music Ensemble, and is a member of Brooklyn-based rock band La Strada. Recently she has played with jazz bassist and composer Ike Sturm, jazz pianist and songwriter Anna Dagmar, and jazz trombonist and composer Alan Ferber. Albright is on Extended Day faculty at the Berkeley Carroll School in Park Slope.
Damian Primis (bassoon) is skilled on bassoon and contrabassoon, performs extensively with the Princeton Symphony, Absolute Ensemble, Barge Music, Handel and Haydn Society, Brooklyn Philharmonic, New York City Ballet, American Ballet Theater, Orpheus Chamber Ensemble, Queens Symphony, and Long Island Philharmonic. In 2003 Primis went on an international concert tour with the Orchestra of the 18th Century under the baton of Frans Bruggen performing the complete Beethoven Symphonies on period instruments. Primis completed his masters degree at The Juilliard School, where he also completed his bachelors as a scholarship student of Frank Morelli and David Carroll.
Hideaki Aomori (clarinet, saxophone) is a multi-instrumentalist freelance musician specializing in classical, jazz, and popular music. Past collaborations include performances with Sir Roland Hanna, Tito Puente, Ron Carter, Sufjan Stevens, Kennedy Center Opera Orchestra, and Moscow Chamber Orchestra. A native of Japan, he majored in clarinet performance at The Juilliard School, jazz saxophone at Queens College, and is currently completing his doctoral degree at Stony Brook University. His past teachers include Ayako Oshima, Antonio Hart, and Dan Gilbert.
Hiroko Taguchi (violin) has toured with the Dixie Chicks, East Village Opera Company and appeared live on stage with such artists as Wynton Marsalis, Josh Groban, Donna Summer, Ray Lamontagne, and many others.
Jane O'Hara (cello) is originally from Ireland. Now based in Brooklyn, she is in the Syrius Trio and plays with The Knights, Wet Ink, and Quartet T. She has also played with Yo-Yo Ma and the Silk Road Ensemble in concerts at Zankel Hall and Ozawa Hall.
Jay Hassler (clarinet) is a graduate of Manhattan School of Music. He performs as a clarinetist in a wide variety of groups throughout the world. He has been featured as a soloist with the L'viv Philharmonic in Ukraine as well as the national orchestra of the Philippines. He has worked with many notable music figures from many different genres including Wayne Shorter, Andrea Bocelli, Randy Newman, and Anna Netrebko.
James McAlister (drums and percussion) has recorded, toured, and collaborated with Sufjan Stevens since 2004. He plays drums on Illinois, The Avalanche, and Songs for Christmas. He holds a Bachelor of Arts Degree in Percussion from the University of Tulsa, and has toured Internationally since 2000 with the rock band Ester Drang and songwriter Richard Swift, among others.
Jody Redhage (cello) is a composer and vocalist and a passionate proponent of new music and chamber music. She has premiered over 100 pieces, and especially loves to sing and play cello at the same time. She has performed with artists as diverse as the Bang on a Can All-Stars, Neil Diamond, Jay-Z, Enya, Guster, Duncan Sheik, the Flux Quartet, and has worked with composers George Crumb, Michael Gordon, David Lang, Steve Reich, Terry Riley, Julia Wolfe, and Lois Vierk. Redhage recently released a CD of new works for voice, cello, and electronics, All Summer in a Day.
Joshua Frank (trumpet) performs and teaches in New York City. Frank has performed with Riverside Symphony, Paragon Ragtime Orchestra, Long Island Philharmonic, New Haven Symphony, New World Symphony, and many others ensembles. In past summers he has been a fellow at the Tanglewood Music Center. Frank received his Bachelors Degree from The Juilliard School, where he studied with Raymond Mase and Mark Gould.
Kyle Resnick (trumpet) is a multi-faceted New York based musician who has performed or recorded around the globe with artists ranging from Placido Domingo to Shakira. At home, he plays in venues like Carnegie Hall and the Bowery Ballroom. In his free time he usually is thinking about what he wants to have for dinner.
Marla Hansen (viola) is a violist and singer-songwriter. She is a member of the string quartet Osso, and has worked with My Brightest Diamond, The National, Inlets, The New Pornographers, Oneida, Jay-Z, Kanye West, Duncan Sheik, Alice Coltrane, and of course Sufjan Stevens. Her debut EP, "Wedding Day," is available on Standard Recording.
Maria Jeffers (cello) is a natural born Rock Star. She was born in Los Angeles. On her seventh birthday, she asked for a My Pretty Pony, but instead received a cello and her love was born. When Jeffers isn't rocking out with Sufjan, she loves to play Bach, Beethoven, Brahms, The Beatles, and she is quite partial to Belgian Beer.
Mat Fieldes (bass) is equally comfortable in jazz, rock, hip-hop, R&B, and classical genres, Fieldes has collaborated with such luminaries as Joe Jackson, John Cale, Ornette Coleman, Steve Vai, Peter Erskine, Paquito D'Rivera, Kristjan Jarvi, Joe Williams, Arturo Sandaval, and Toni Tennille, among others. His recent appearances include The Dream Engine—the latest vehicle for legendary songwriter Jim Steinman. In 2006 he performd with the acclaimed crossover hip-hop virtual band The Gorillaz, live at the Apollo Theater, and hip-hop luminary Jay-Z at Radio City Music Hall. In 2001, he performed on Joe Jackson's album, Symphony, which won a Grammy Award for Best Pop Instrumental.
Matt Moran (percussion) is an indispensable part of a wide range of groups, from his own brass band Slavic Soul Party! to John Hollenbeck's Claudia Quintet, from new music vibraphone to piano-pop drumming, from jazz quartets to Greek zourna music. Moran received a masters degree from New England Conservatory, where he studied with visionary composer and improviser Joe Maneri.
Mike Atkinson (conductor, french horn) has performed throughout Europe and the U.S. with Sufjan Stevens playing French horn. He has also adapted tracks from Sufjan's album Enjoy Your Rabbit for the string quartet Osso, which were premiered at the 2007 Music NOW! Festival in Cincinnati. Atkinson plays principal horn in the orchestra for Broadway's production of Les Misérables, and received his BM and MM degrees from The Juilliard School.
Mio "Pico" Alt (violin) entered the Juilliard Pre-college division at the age of ten and graduated with a BM from the school in 2005. She has attended music festivals all around the world and performs frequently in the New York City area.
Naho Tsutsui (violin) is originally from Japan, received her BM from North Carolina School of the Arts, and both her MM and DMA from the Stony Brook University. She is a member of the Hyperion String Quartet and is on the violin faculty at the Bloomingdale School of Music in Manhattan, as well as the Kinhaven Music School in Vermont.
Olivier Manchon (violin) also plays viola, saw, guitar, piano, and is a mean recorder player. He is undeniably French. He is a member of string quartet, Osso, who often accompanies Sufjan Stevens and My Brightest Diamond. Manchon arranges and performs with Clare & The Reasons and his own band, The Orchestre de Chambre Miniature. Currently, Manchon plays violin and guitar for the Broadway show Spring Awakening.
Rob Moose (violin) moved to New York in 2000 to pursue a violin performance degree at Manhattan School of Music. In 2005, he joined Antony and the Johnsons, playing guitar, violin and singing for world tours including shows at Royal Albert Hall and Late Night with David Letterman. Since playing on the album Illinois, Moose has continued to work with Sufjan Stevens, including conducting and co-orchestrating his concert at the Kennedy Center Opera House. He's played and recorded with Jay-Z, Duncan Sheik, My Brightest Diamond, Savion Glover, James Carter, Alice and Ravi Coltrane, Burt Bacharach, Linda Thompson, and The Walkmen.
Sato Moughalian (flute) a chamber musician and soloist with the Diaghilev Festival (Perm, Russia), Moussem Culturel d'Asilah (Morocco), Festival de Prades (France), and has played at Pablo Casals, Skaneateles, Lincoln Center, Cape May, Adirondack Festival of American Music, Bar Harbor, Music from Salem, Mohawk Trails Concerts, and Costa Rica International Festivals. She has offered classes in such diverse places as Tblisi, Georgia, Beijing, China, and Cali (Colombia). She is a member of the Quintet of the Americas, American Modern Ensemble, and has appeared as guest flutist with numerous groups including Orpheus Chamber Orchestra, Richardson Chamber Players, New York Chamber Ensemble, CounterInduction, and Amadeus Virtuosi. She is the solo flutist of Gotham Chamber Opera, L'Opera Français de New York, New Philharmonic Orchestra of NJ, St. Patrick's Cathedral, Colonial Symphony, and guest principal with American Ballet Theatre, American Symphony Orchestra, Long Island Philharmonic, Westfield and Stamford Symphonies, Sao Paulo State Orchestra (Osesp). Moughalian co-founded MAYA, and is Artistic Director of Perspectives Ensemble.
Shara Worden (vocals, celeste, guitar) received a BM in vocal performance from the University of North Texas. In the present day she has a band called My Brightest Diamond, and has released two albums on Sufjan's label, Asthmatic Kitty. She lives with two sassy white rabbits.
Suzy Perelman (violinist) can be heard playing in Brooklyn Philharmonic, Long Island Philharmonic, and various Broadway shows. She is also the teacher of fifteen young violinists ranging in age from four to twelve. In her spare time, Perelman loves rollerblading, word games, playing chamber music, long walks, concerts, and trapeze.
Tim Albright (trombone) is a chamber musician and a cutting-edge jazz artist. He is a regular member of many New York ensembles including Atlantic Brass Quintet, Argento New Music Project, and the Riverside Symphony. Albright is also a long-standing member of renowned saxophonist Steve Coleman's group, Five Elements, widely considered one of the most challenging gigs in jazz. He can be heard on numerous recordings and has toured extensively throughout Europe, Africa, Asia and the US. Other appearances have included the International Contemporary Ensemble and the Maria Schneider Orchestra. He is frequently heard in the orchestras of current Broadway shows. Albright attended the Eastman School of Music.
Theodore Primis (french horn) is originally from Alaska and came to New York to study as a scholarship student of Jerome Ashby's at Juilliard. Primis performs extensively in New York as a freelance musician playing everything from movies to performing with many of the areas top orchestras. He is also currently principal horn at Wicked on Broadway.
Yuuki Matthews (bass) is a Seattle based multi-instrumentalist. He has played with several Seattle bands including Pedro the Lion, Crystal Skulls, and Seldom. He is currently working on a soundtrack for an upcoming independent film and material for a new album of his own.
Alban Sardzinski (lighting designer) is passionate for the arts and has worked with many artists including Wilco, Linda Ronstadt, Thursday, The Strokes, Vertical Horizon, and Killswitch Engaged. Currently he is with See Factor Industry Inc. as a Sales Associate.
Caroline McAlister (costume designer) is a costume and apparel designer based in Seattle, WA. She is a graduate of the Apparel Design program at Seattle Central, where she debuted her conceptual Spring 2008 line, URI URI. Her first collaboration with Sufjan was in 2006, creating the Majesty Song Bird and Butter
ly Brigade. She accompanied his North American tour as "Wing Master," where she resurrected broken wings. She is honored to collaborate once again on The BQE.
Christopher Colbert (audio engineer) was raised by raccoons in eastern Los Angeles. They taught him much about music and audio engineering. The flashing lights and brightly colored knobs keep him happy and quiet.
Deborah Johnson (projectionist, video artist) is Brooklyn-based and has designed live video accompaniment for Wilco, Lambchop, Calexico, and Sufjan Stevens, performing around the globe in such legendary venues as Radio City Music Hall, Madison Square Garden, The Fillmore in San Francisco, The Ryman in Nashville, and Wiener Konzerthaus in Vienna, Austria. She has collaborated with a number of renowned visual artists in the creation of these sets: painter Fred Tomaselli for Wilco, filmmaker James Clauer for Lambchop. Collaborations with artist/programmer Siebren Versteeg on visualization and animation programs can be seen in her recent work with Stevens, including two of his forthcoming music videos. Later this month she will be performing with the Japanese pop-duo Chocolat & Akito in a "lounge club" next to Tokyo Disneyland. She is super psyched.
Malcolm Hearn (film editor) first discovered his language was film while interviewing a gravedigger in Liberia. Since then, he has wandered the earth with his passion for filmmaking and now calls Brooklyn home.
Reuben Kleiner (cinematographer) is an award-winning cinematographer with experience in narrative, documentary, and experimental film. In 2006 he ranked among the top nine student cinematographers in North America by Eastman Kodak for his 16mm short, Birth of the Box. A graduate of Pratt Institute, Kleiner pairs his emotional sensitivities and abstract thought to enliven even the most mundane settings.
Filed under: main