In the Neighborhood
I recently attended a show featuring my friend / downstairs neighbor, Timothy Dick, at Googies, the new venue on the second floor of the Lower East Side's famed Living Room. I admit this is a classic case of friend rock (please see Sufjan Stevens' definition if you need clarification), but the week of the show seemed to mark the end of one era and beginning of another for Timothy. On Monday, his new record, On a Grassblade, arrived in the mail. On Tuesday, we grilled out on the back porch with other artist and musician friends from the neighborhood popping in to watch our rabbits get it on. On Thursday night, he played Googies. Then, on Saturday, he moved upstate with his pregnant wife, son, rabbit and the kitchen sink. So many events for one week! Whew!
I turned up at the show at Googies and it felt like a scene in Big Fish or something, with friends from the circuses of my past among the audience. Those moments make you realize that what you are creating as an artist is not separate from anything else, that you are a part of a larger fabric. One of my favorite painter / installation artists, Anselm Keifer, said, "I found out that an artwork is only partly done by the artist, that the artist is part of a larger state of things – the public, history, memory, personal history – and he must just work to find a way through it all, to remain free but connected at the same time." Here is a picture I took with my camera phone.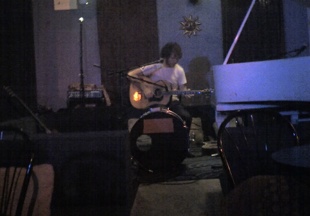 The performance was really moving despite our being able to hear the downstairs bar chatter through the plexi-glass wall. Maybe the noise added to the charm… The music began with Timothy's beautiful ringing baritone voice booming out through small speakers over the sound of the grand piano. He has one of those voices that always makes me feel immediately. It's really hard to describe, but when I hear an expressive singer sometimes I get a knot in my stomach, and I mean that not in any negative way, but in a
way that's really physical and that most importantly produces instant feeling. That's Timothy.
i was born in a robins nest
safe in the softness of her breast
warm in the softness of her breast
but then i fell onto fallow ground
from so high a place my stars came down
my stars came down
He was joined by his wife, Kathy, on harmony and Timmy Gologly on bass and vocals. The blend of their voices was balanced and pitch perfect. Sometimes Timothy switched to a half broken guitar that creaked and balked at being put back in tune. Holding his guitar and singing, he sat behind a bass drum
and tambourine hi-hat and played like a New Orleans street band. He sang about the demise of Coney Island, "Goodbye Coney Island/ your warped sanctity/ your smoldering glory/ seagulls and clowns beseech the story/ if i could only put a jetty round your ashes/ anchor you down till it passes/ the sea washes you slowly gone/ last ride for you/ last ride for me". He ended the night with a song Island dedicated to Kathy, as this night marked their 4th wedding anniversary.
she fled at the break of day
flattened the corn where the husks lay
the victorys here when the victor comes
fall into me like the evening sun
The following morning I woke up early and decided to film Timothy's rabbit, Angel, with my rabbit, Alice, in our backyard. It would be their last day together and I wanted documentation. (This is really a behavioral study of rabbits. Please note that Angel, the one eared pirate, has the hots for Alice, but Alice won't give him her phone number nor let him get to first base.) As I was filming the bunnies, our friends Timmy Gologly and David Stith (Gone Away remix and MBD designer who also designed Timothy's album!) showed up to help the folks move and it turned into a little garden party.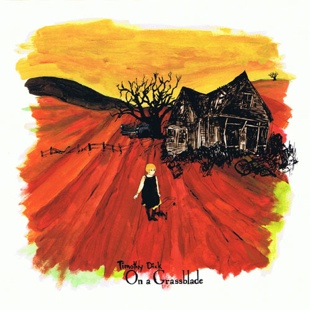 Speaking of grass, when listening to On A Grassblade you might wonder about all the scratches, hiss and horns. Timothy is one of those folks who starts twitching if something sounds to clean. He's like Tom Waits or Johnny Cash transported to a country farm in Alabama in 1932. I mean, some people have that sort of aesthetic and don't really walk the walk, but not Timothy. He has a rotary phone, a perfectly out of tune upright piano, watches a black and white t.v. and listens only to scratchy records. He owns a rabbit with one ear for pete's sake. I don't think he'd be caught with a cell phone in his hand. But more than all those things, I think Timothy is gifted with the ability to see beauty in just about anyone and everything. He is able to find the crack in the sidewalk and grow a flower in it. It's the grit of life that interests him and in observing it, he opens windows for us to see the fundamentals of love, loss, hope, God, and the human experience. Your heart rate will slow down as you listen, and you might ponder a few things or two.
i'm just a prick in your sack of flowers
a loose stone in you ivory tower
just a ghost in you midnite hour
Sometimes in the last few weeks, I'd be upstairs in my apartment working on my record and Timothy would be downstairs underneath my feet in his kitchen recording too, and I'd hear a harmonica or pedal steel coming up through the floor and I'd stop working to listen. The sounds would be muted and felt old, like I was listening to memories.
Filed under: essay