youarebeautiful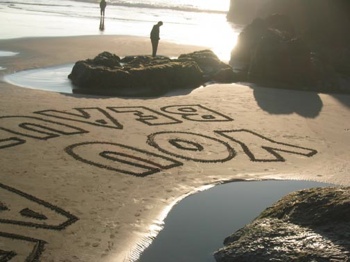 I've been conducting an experiment. Inspired by the anonymous urban sprinklings of the "You Are Beautiful" collective, I've been trying out the phrase while in public. Looking at any stranger, I silently intone, "You are beautiful." And a strange magic happens. The person, no matter how homely he or she may have seemed, becomes lovely. The uniqueness of face, of body, expression and style, rise to the surface, and the part of that person that may never believe such a thing about her-him-self actually becomes the most endearing part. I will admit that this magic does not work the same way with each person. Someone who is conventionally attractive might have a funny force field that ironically, initially bounces the phrase away, as if looking for a candidate in greater need. But with small persistence, that familiar I-am-ugly feeling can usually be caught right there under the surface, and rendered null for a moment by my incantation. The toughest customers are those whose hardness and bitterness ride the helm. The easiest are the unassuming, the average, the plain, the awkward.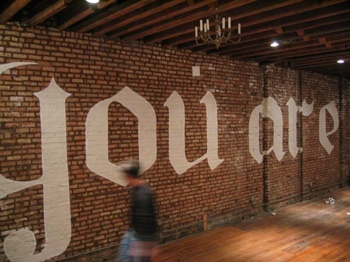 Trying out the process with people I know well—friends, family, husband, sons—is also a different scenario, since I can say it with a deeper knowledge of who that person might be. Like shaking a jar of stones, beauty takes the top strata, and I say, with real conviction, "Yes, you ARE."
Because most of us go through our days feeling anything but beautiful, such a simple encouragement has caught on with a fire that might only be rivaled by the Obey Giant phenomenon. See www.you-are-beautiful.com to view installations worldwide and read more about the project. And, hey: you are beautiful.
Shepard Fairey's Obey Giant: http://obeygiant.com/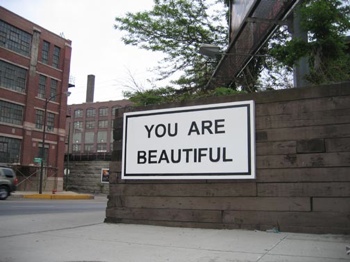 Gala Bent is a mother-artist-teacher living in Seattle who enjoys, among other things, this thought: between thesis and antithesis arcs the ever-loving synthesis. www.galabent.com
Filed under: experiment