Pearl Divers Unite: An interview with Dishwasher Pete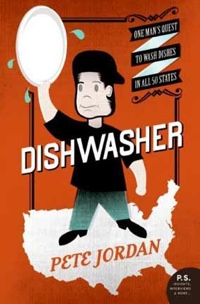 Before we begin, there are certain things you should know about Pete Jordan, a.k.a. Dishwasher Pete.
1 In 1989, Pete began to wash dishes. He wanted to get out of San Francisco where he was raised, and a job like dishwashing could take him from city to city easily. So he jumped on a bus and ended up working in some thrift store corner of Brooklyn for a few months. And when he got the notion, he took off for a new place.
2 He started chronicling his adventures in the classic zine Dishwasher. These stories turned Pete into a larger-than-life pearl diver (slang for dishwasher), a Rosie the Riveter not just for dishwashers but also for manual laborers, urchins, and suburban kids waiting to slip out of their own sleepy hometowns.
3 Pete hit 33 states over the next 12 years, washing dishes everywhere from a hippie commune to an offshore oil rig.
4 Pete's a storyteller at heart. You know when you have a wild experience or meet a real character and have to tell someone about it? Well, Pete had lots of poignant, hilarious stories about dishwashing to tell. And certain people, from Ira Glass to David Letterman, were listening. Turns out lots of New York publishers were, too.
So Pete Jordan became the mighty "Dishwasher Pete". He's contributed to This American Life and other NPR shows multiple times, has been a guest on The Late Show, and published Dishwasher: One Man's Quest to Wash Dishes in All 50 States (Harper Perennial). I recently caught up with Pete, who is settled in Amsterdam with his wife and son, writing and fixing bikes.
Sara Billups: What's the best music to wash dishes to?
Dishwasher Pete: Whatever gets one's mind off the fact that they're working. For my suds buster guru Jeff, it was Sun Ra. For me, at a lot of gigs, it was whatever local oldies station I could find on the radio (back when radio had local oldies stations). These days, while dishing at home, I usually don't just listen to music, just the BBC news.
SB: I bought your book at Elliott Bay in Seattle recently. When I handed it to the clerk at the register she honest-to-goodness lit up: "Oh, he was sooooo wonderful when he read here. Such a nice, genuine person" It sounds like you made quite an impression. I'm wondering, what's it like being on a book tour? I mean, was it turtlenecky with proper signings and Q+A's and everything?
DP: The Dishwasher book tour occurred during May and June 2007 so the warm weather didn't permit any turtlenecks. But indeed, the tour did see me reading passages from the book, answering audiences' questions and signing books or other things (like one guy's sauce pan). Despite years spent avoiding any sort of public speaking, I really enjoyed doing the readings and look forward to doing more in the future.
SB: I'm fascinated with the love of maps that started when you were young. You write, "I carried around a map of San Francisco and traveled as much as I could within its borders by attempting to walk the city's every street and ride the entire length of every bus line." What compelled you to learn the city's every nook and cranny?
DP: I'm very curious about my environs, especially those that aren't considered terribly interesting. Attempting to walk every street in San Francisco when I was a teenager forced me to go to parts of the city that I wouldn't have thought to go otherwise, even if it was just a block or two out of the way from one of my well-worn routes. My fifty-state dishwashing quest took place for much the same reason. It forced me to go to lots of places I wouldn't have thought to go if I wasn't trying to work in every state. And I really appreciated going to and experiencing those spots. Nowadays, I'm still fascinated about forcing myself to explore the less likely parts of my surroundings. Recently, I completed a project to photograph all 185 bicycle shops here in Amsterdam. Though I thought I knew the city quite well, with this undertaking, I discovered some streets and neighborhoods in my new hometown that had been previously unknown to me.
SB: You hit 33 states, washed dishes in 88 kitchens and lived in some great cities. Was it always easy to leave?
DP: Leaving was my specialty. That's probably the thing that I was best at. I was always eager to quit a job or leave a town and go someplace else. It was always easy. Then again, there was the time that I ditched my dish gig in the mess hall at an Alaskan fish cannery. I presumed I'd be able to say goodbye to my buddy and dishwashing partner. But, in the moments when I was leaving for the airport, he wasn't around for me to explain why I was bailing on him. Writing the book made me feel guilty all over again for having abandoned him.
SB: Why do you think some people talk about doing really adventurous stuff, traveling and so on, but never do it, while other people just get up and go?
DP: Some people are lazy, I suppose, and others aren't. Then again, I'm pretty damn lazy which is actually one reason why I traveled so much. Seeing out life in one place or at one job was, I thought, what took the kind of patience I didn't possess.
SB: It seems like creative people have a couple of options when it comes to making a living: 1. Work a job to pay rent and discipline yourself to write or paint or make music in your free time, or 2. Get a job doing 'what you love' and hope it doesn't dilute your creativity. For a good ten years you picked #1, and then you pulled a book out of it. Did writing the zine ever feel like a job you had to do instead of something you wanted to do?
DP: The zine was born simply out of a desire to entertain some friends. Only 25 copies were made of the first issue. I had no initial ambition beyond have a couple dozen people read my dish tales. It was something I did to make my day job more bearable.
But by the end, when I was printing 10,000 copies of each issue, it most certainly felt like a job. With all the mail pouring in, I simply couldn't keep up with the demand. So I put it out of my mind by no longer opening my mail. Without realizing it, what I had done was quit my job–my zine publishing job. With the book, I didn't have to fuss at all with the publishing and distribution of it. I just had to write it and that was a big relief. If writing fulltime is now my job, it's one I can't see ever quitting. I might get fired–but that's another story.
SB: Now that blogs are around, what do you think will happen to zines?
DP: Zines will continue to stubbornly exist. On my book tour, I was amazed to see how many zines there were on the shelves of places where I read like Atomic Books (Baltimore), Quimby's (Chicago), Needles & Pens (San Francisco) and Reading Frenzy (Portland). It's definitely much more challenging to publish a zine than it is to write a blog, but for many folks, it's still more rewarding to have their work in printed form.
SB: During your interview on Letterman last July you admitted, in front millions of viewers, that you actually don't like television, thank you very much. I like not owning a television. But my husband and I will rent the Gilmore Girls or Curb your Enthusiasm on DVD and watch them on our computer, which is really inconsistent value-wise but undeniably satisfying. Do you think that's cheating?
DP: Oh, it doesn't really matter. On Letterman I told viewers to turn off their TVs because it's so crazy how many of us sit for hours on end in front of the box, absorbing such crappy stimuli. Most bizarre is that people sit through countless hours of commercials. Having all that materialistic shit slung at us turns us into consumerist zombies. But comparing that kind of viewing to watching a couple shows on DVD now and then is like comparing a heroin junkie who shoots up every day to someone who just has a glass of wine now and then. Maybe the trick is in moderation. But if I never watched a TV show the rest of my life, I wouldn't complain.
SB: You've got Irish citizenship and can stay in any EU country as long as you'd like. It seems like you're staying put in Amsterdam. What perspectives about the U.S. have you gleaned as an American living abroad?
DP: Well, we arrived here just before the buildup to the American invasion of Iraq. Following the events in the American press and the European press was mind blowing. While the European press was still discussing arms inspections, the American press had already swallowed the White House's spin and was discussing things like what new "toys" the military would be using in this new war (as I heard reported on NPR). Under such circumstances, we weren't very eager to get back to the U.S.
There are plenty of advantages about residing here. One is to live in a place where some very basic beliefs that I hold on issues–that are all hot-button topics in the U.S.–are simply not even an issue here. In the Netherlands, gay marriage, abortion, soft drug usage and euthanasia are all legal (or at least in the case of soft drug usage–tolerated). Meanwhile, capital punishment is illegal (as it is in pretty much every European nation aside from Belarus). Affordable health care is for more accessible here for folks like us. That I live in a nation where these types of lefty politics are the norm makes my day-to-day life much more livable.
SB: You have a two-year-old little boy now. How has being a father affected your wanderlust?
DP: Well, obviously these days I no longer wake up and decide to split town and head for the nearest bus station. But my boy is my partner-in-crime in my explorations of Amsterdam. He's probably seen more of this city (from the front of my bike) than many adult Amsterdammers have in their whole lives.
SB: What are you working on next, any new writing projects?
DP: I'm busy working on my book about my life in Amsterdam as seen through the lens of Dutch bike culture. I've been taking notes for it for five years but have only just sat down to start writing it over the past week or two. I don't know when it'll be out–late 2008 or early 2009 I suppose.
For more on Pete Jordan, visit www.dishwasherpete.com
Sara Billups writes the blog Weatherspoon, a diary of living alongside the weather in the Great Northwest.
Filed under: interview