Color Me Unimpressed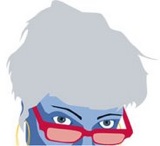 When I was in junior high, I purchased this fantastic pair of purple Guess jeans. They were of the softest denim, had a slightly tapered leg (it was the mid 90's – don't judge), and the oh-so-coveted Guess triangle on the back right pocket, which announced to all who viewed it, "There goes a very cool girl." Combined with my Doc Martens, permed hair, and Esprit handbag, these jeans were a killer addition to any outfit. Or so I thought.
Turns out I probably looked pretty lame. I mean, purple denim…plus turqouise, yellow, and red? What was I thinking?! By the time I reached high school, all colored jeans had been relegated to the back of the closet and I vowed only to wear light-washed blue jeans with a bell-bottom or boot-cut leg. Whew! I was safe…for a while.
Turns out that light-washed jeans make you look fat. Or at least chunky or something. As do bell-bottoms, which apparently enhance the size of one's thighs and hips by upwards of twelve-and-one-half percent. Quelle horreur! Thankfully the powers that be came along and introduced us all to the oh-so-chic and grown-up world of dark-rinsed denim. Okay, I get it. Dark is slimming. Dark is professional. Dark is…tragically monotonous. But it's slimming, right?
Turns out that all those deep hues went to designers' heads and their creativity could no longer be supressed and confined to such a limited range of washes and dyes. What's a jeans-maker to do? I KNOW…design some jeans in (dramatic pause for effect…) COLORS!! Ohmygosh, that's so totally, like, brilliant and stuff. Do I sound like a junior high student? Because that's what I suddenly feel like again.
So what's a fashionista to do? Well, you could desperately try to keep up with trends in denim and constantly replenish your wardrobe with a bunch of styles you don't like (I'm looking at you, skinny jeans), you could wear whatever you want without caring a lick for style (I'm looking at you, ex-boyfriends), OR you could just not wear jeans altogether. I've opted for the latter for the time being. It's my own li'l personal protest against overpriced, overhyped denim trends that seems to have taken the fashion industry by storm over the past five years. This summer I wore only skirts and dresses for three months straight. And guess what? It was really liberating. While everybody else was busy looking like…well…everybody else, I was rockin' my own style sans denim. I know, I know: jeans are comfortable, they're easy to wear, blah, blah, blah. But maybe try something different for a change. Because if history keeps on repeating itself, those wacky super-wide legged jeans (JNCO's, anybody?) will be the next returning fad. And I don't think anybody wants to see that.
Fin
Filed under: fashion