Harrison Center for the Arts, Indianapolis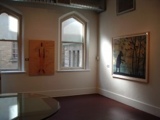 I am sad to miss the 3rd Unusual Animals party this coming Friday in Indianapolis. Living in Seattle, I find myself knee deep in a culture concerned with aesthetics from the type of vegetables you buy, to the car you drive, to the clothes on your kid's back, and then to the stuff on walls deemed art: It can easily be said that Seattle is okay with the creative.
There was something different about being an artist in Indiana. Its not that the Hoosier state is devoid of aesthetic interest, but the pockets where it exists are small and quiet. To practice art in the Midwest means to be bound to a cultural family, a brother/sisterhood. This familial dependency on community is a welcome wind compared to scratching and clawing your way to the top as an individual. Harrison Center for the Arts is a place of vibrancy where those who are staked in the creative can gather to experience a broad slice of visual and audio activity. The beautiful thing about Harrison Center, though, is how it goes beyond its role as a cloister and opens itself up as hub to the uninitiated. To go to an opening at Harrison Center is like partaking in an unlikely celebration where all have been invited and belong. I miss that place and its effort to extend the hand of art beyond the elite esthetes to nieces, neighbors, and novices. What is the use of art if it doesn't open up its curiosities and mysteries to all?
The Harrison Center is an unusual animal itself and a perfect venue to allow the odd worlds and fantastic arrangements of the Unusual Animals to collide. Have drink for me and enjoy the procession!
http://www.harrisoncenter.org/
Filed under: city