John from Cincinnati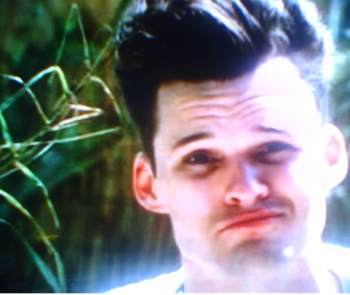 "My Father runs the Mega-Millions. Fur is big. Mud is big. The stick is big. The word is big." – John, in John from Cincinnati
HBO had high hopes for John from Cincinnati, the newest televised creation from David Milch of NYPD Blue and Deadwood fame. The subscribe-only network aired it immediately following the series finale of the Sopranos. It was an unfair move. While everyone was slowly closing their wide open jaw, wondering whether Tony Soprano was going to die or continue enjoying his dinner, a strange looking guy in a white jogging suit stood on a beach watching another guy surf for three minutes. Ouch.
Milch's Deadwood was a masterpiece, from start to finish. In my opinion, it's the closest we'll ever get to new Shakespeare. It had rightfully garnered a loyal following of critics and fans alike, but quality cost silver. Deadwood was expensive – and therefore eventually canceled.
John from Cincinnati, set in the modern (aka cheaper) washed-up surftown Imperial Beach, California, is more disjointed than Deadwood. The Shakespearan+swear dialog stepped right over the time barrier between old west and modern west, but what worked in the fantastical, foreign setting of Deadwood demanded a higher suspension of belief in a modern setting of kitchens, cars, and hospital rooms.
Pretty much everyone abandoned the show after the first episode. I almost did too. It was as if someone had taken the soul out of Deadwood and put it in a cheaper, flimsier box. If I hadn't been watching the show with a bunch of friends who did like it, I too might have walked away.
But last night's episode convinced me that ever since that first scene when John appears from nowhere onto a Californian beach, I have been watching something great, even important. The last few episodes prior to this have certainly stepped up in quality, but the most recent episode walked back to 1992 where Twin Peaks left off and said, "It's ok. I'll take over from here," in much the same way TP had with The Prisoner. Without giving away too much, a scene late in the episode not only borrowed but advanced the narrative method first employed by Twin Peaks. The scene even used that deep, haunting wind that used to tell viewers of TP that something important and surreal was about to happen.
Here's Milch on his new show:
"The important point that I'm trying to make is that storytelling has nothing whatsoever to do with logic. Logic is a limping stepchild of the true processes of the spirit. It's an illusion. It's a defective little parlor trick. Associations are the way that we perceive. Electrical connections caused by the juxtapositions of experience. That's the way we are really built, and storytelling takes into account that truth."
That could very well have been Lynch talking about Twin Peaks.
Lost has often been associated with taking up Twin Peaks' mantle. I used to think that until last night. But really, Lost is only as close to TP in the sense that we really don't know what's going on, and that the story is serialized – which really owes as much to radio shows and soaps. I love Lost too, especially after this season's finale, but its no successor to TP.
John from Cincinnati is. It's by no stretch perfect, but I'd still suggest that Milch's newest not only meets but exceeds Twin Peaks. Whereas TP tried to maintain two disparate but parallel storylines, one non-linear (the White and Black Lodges) and the other fully linear (the murder of Laura Palmer), the show couldn't sustain both. It ultimately entangled itself in a mess only Lynch's imagination could unravel. With John, Milch is being more interesting than TP's "Who killed Laura Palmer?" John asks us: what if God, or the Son of God, were here, now?
Filed under: television