Shapes and Sizes Tour Diary, Summer '07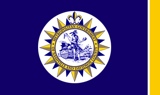 We had a day off planned for the 14th after Atlanta and before Cincinnati but we decided to play a show in Nashville. Fate had something very special for us that night.
We arrived and (as is our usual routine) found a coffee shop called Coco's Cafe. It is a big place that has a front cafe and a back bar. That night was an open mic night. we had a lot of time before the gig so we got something to eat and hung around for a few hours. Being a natural explorer and general thrill-seeker, Rory ventured into the back room and caught a song by this girl named, as we would later learn, Lola. He came running into the front room where the rest of us were toiling away on the internet and said with an electric conviction "you guys have to see this girl". I followed and was blown away by this force on stage. I have never seen anything like her. Think Anthony and the Johnsons with the presence and spirit of a 19-year-old Nina Simone. We invited her to our show and she loved it as much as we loved her.
She was amazing. I cannot explain properly. We are now sitting in the car listening to her band A Parade and I am astounded. She is incredible and I hope she continues to do what she does.
Ok I am going to include a track from her CD, but I have no track names, unfortunately.
This leads me to another topic. It seems that sometimes these small shows allow for meetings with people that you wouldn't necessarily meet at the bigger (green-roomed) venues. Why is that? It seems that aside from logistical thing, such as smaller audiences cheaper tickets and no back-stage beers, the smaller shows allow for different experiences. I really got this impression during our Nashville experience with Lola and. Perhaps the lack of pressure and expectations that inherently come with larger, higher profile gigs give room for strange, uncommon meetings and experiences.
With this said, however, there is much to say in favour of the scale of this tour with the National. We are paid well, fed, pampered and can always expect large audiences to play for. And in this instance, we get to tour with some really special people and musicians. We are enjoying this tour immensely.
Stream "White Beard," by a Parade
[Visit a Parade on MySpace]
Filed under: tour diary