Curtis Steiner / "Souvenir"
Artist/Store review: Curtis Steiner/"Souvenir"
5325 Ballard Avenue * Seattle WA 98107
If you find yourself in the Emerald City soon, pop your head into Souvenir, a little shop in the Ballard neighborhood of Seattle. The space is lovingly arranged and rearranged by owner Curtis Steiner, who makes handmade cards and jewelry with antique beads, but is also a collector and arranger of many, many things. His displays of carefully selected and choreographed objects elevate the shop to a sort of hushed curio cabinet—a display of far-flung wonders. Most three-dimensional collage makers cannot shake the ghost of Joseph Cornell from their process. Steiner is one of the few I've seen who brings a fresh eye to the process of finding and displaying disparate objects and linking them together into a beautiful synthesis of form.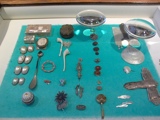 Photo by Jasmine Park
Look at Steiner's website to see his jewelry and cards, but don't read the site design as indicative of the effect of the physical space of the store. A little anomaly on the site is much more accurate to Steiner's process of playful design. On the front page, click on "…and now for something completely different," where you can uncover a slide show of shifting designs made with a tray of lacquered wooden blocks. As someone who loves pattern, I am brought into a meditation of the incredible variety that can be explored through simple elements. I've long maintained that the best play involves work, and the best work feels like playing. Children display this balance beautifully as they learn the properties of the world by concentrated play. Such must also be the case with the ongoing project that is Souvenir, which radiates delight and fascination, even as it does business in the adult world.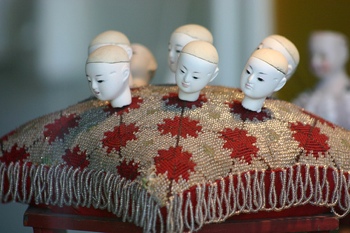 Photo by Lillian Bennett
Gala Bent is a mother-artist-teacher living in Seattle who enjoys, among other things, this thought: between thesis and antithesis arcs the ever-loving synthesis. www.galabent.com