Bayleaf Vegetarian Restaurant, Portland Oregon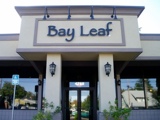 I want to talk about magic for a while. The town I'm living in right now, Portland, is a place that's very concerned with magic. The magic of weird, slow-plotting ambient music, mysticism in folk singers' lyrics, old hidden druidic cults chanting on Mt. Tabor, and acid burns-outs who believe they talk to wizards. This is Portland, Oregon, now. Portland, Maine, is concerned with other things; Cape Elizabeth maybe, SPACE Gallery, old architecture in the Port District. Not terrible things, but a world vastly different from Portland West.
The magic I want to talk about, though, is the healing juju in Chinese hot and sour soup. Specifically, the kind you get at Bayleaf Vegetarian Restaurant on Division Street in the southeast part of Portland. I have come back from deathly hangovers and a bad flu or two with the stuff. More than once, I've been on zero sleep for days then walked out Bayleaf's doors feeling like I'd eaten a Nicaraguan coffee farm and a crate of ecstasy. Corpsey to beatific for under five bucks; Bayleaf can save your life.
Hot and sour soup … it's spicy, brown and opaque, filled with little slivered rectangles of tofu, tiny mushrooms, strange sticks and roots, but beyond that I have no idea. (And I have asked; the language barrier and I don't work well together.) There's a chili flavor to it, something peppery, probably some lemon grass, but I think the real taste comes from magic divined by reincarnated Buddhist monks, who project astrally to ancient China and gather what they find on forest floors.
There have been accounts—I read about this most recently in a study on Han-Shan's writing—of Chinese monks walking into the forest and coming out 200 years later, still as young as the day they left. This, I firmly believe, comes from a regular diet of meditation, fresh mountain air, and hot and sour soup.
Bayleaf has a lot of good dishes—sweet sesame tofu, curries, spring rolls, Eight Treasures tea, vegan carrot cake, tofu clay pot—but it's the soup that does the trick for me. It's cheap, hot, soothing and substantial, mending you when you don't feel right with yourself. (Which, for me, is far too often.) So come visit Portland and if I'm around and in a good mood I'll take you to Bayleaf and we'll talk about monks over a bowl of hot and sour soup. It'll wash the slime right out of you and replace it with clean white light.
BIO: Adam Gnade's (guh nah dee) work is released as a series of books and records that share characters and themes; the fiction writing continuing plot-lines left open by the self-described "talking songs" in an attempt to compile a vast, detailed, interconnected, personal history of contemporary American life. Check out recent writing here and songs here. Contact: adam@asthmatickitty.com
Filed under: city