Shapes and Sizes Tour Diary, Summer '07
June 5th
To Toronto today. Last night was with the National in Montreal. We are officially in the rock star world and I personally feel excited and completely out of my element. I sort of like the discomfort of the big time. The sheer fact that I'm calling this the big time proves how small fries we are. When the promoter asked us what kind of booze we wanted I froze and all the stage hands lifting our gear just threw me off. Plus, all of a sudden we are faced with all this bureaucracy that apparently comes with rubbing elbows with a life of fame and money, but not having enough of either to have a manager. So we're asked to do merch counts, merch floats, follow strict load in times, call ahead to venues and generally be more organized. We are our own secretaries, sitting behind a dashboard desk writing dates in our dollar store day planner. I love it!! Really really really.
I think it's because I am a little bit control-y. Or maybe I just don't yet know how to live the life of an uncontaminated artist, uninhibited by chores and work of this world.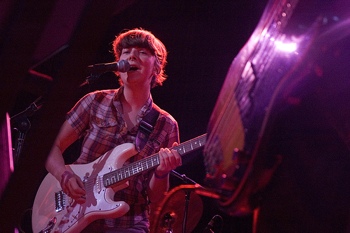 June 7th
Now we are in Chicago awaiting gail-force winds expected later tonight. It is the windy city. Last night we were joined by another band called Talk Demonic from Portland so now it is a huge posse of good people.
So an update on our exercise routine. Last night the club we played at had a bowling alley!! AHH. So good, except I truly can't bowl. I have this wicked curve ball that I can't control.
The new van is way cool, except for those annoying seat belts! But the noise level is soooo much lower so now when we have heated conversations both back seaters and front seaters can participate. We really miss the stove though… for coffee.
Today's conversation was on whether the date of a certain music should influence our opinion of it compared to similar works of later dates. And furthermore, whether if unaware of which artists came first or not, would our informed preferences be the same as our ignorant preferences?
Why are we so fixated on chronology? I don't know but I think we are.
Ok enough for now!
over
Filed under: tour diary