Sweet 16 Downloadable Bracket
Part IV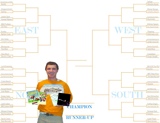 Congratulations go out to James Walker of Casa Grande, Arizona for correctly predicting three of the Final Four teams. A prize package will be in the mail to him sometime soon.
The Wrapup:
"What one man can do another can do!" #1 seed The Best Show on WFMU cruised past Wild Turkeys in the Sweet Sixteen to meet #10 seed The Wire in an epic Elite Eight matchup. Scharpling and Co. got the better of McNulty and the gang – but not before giving us the best matchup of the tournament since Seltzer vs. Khmer Rouge in Round 2.
The "loaded" (according to old friend Will Heron) North Bracket saw #2 seed Lucid Dreaming have just too many weapons for five tool Jose Reyes (perhaps if Reyes himself had made Endy's catch on a dead sprint…who knows what might have been?). It was a fine showing for young Reyes in his first tournament, and he was spotted later commiserating with #1 seed Stax Records after their Sweet Sixteen exit at the hands of the multi-faceted attack of fourth seeded Estate Sales. Lucid Dreaming never trailed in their close matchup against Estate Sales and will meet The Best Show on WFMU in the Final Four.
#5 seed Sarah Silverman Show met #1 seed Seltzer in the first matchup of the West Bracket Sweet Sixteen, and like ninth seeded Khmer Rouge before her – it was a case of wrong place, wrong time. Silverman was game, but Seltzer was never threatened and met # 2 seed Roger Angell, a winner over first time entrant #6 seed Jordan Jesse Go!, in the Elite Eight. The sheer force of Seltzer was just too much for perennial powerhouse Angell, and Seltzer advanced to the Final Four looking like the favorite for the this year's Championship.
MLB 2K7 met #3 Starbucks Large Americano in the round of 16 in the late game of the South bracket and advanced to meet upstart #5 seed Dawn of the Dead ('78) in the Elite Eight. Dawn of the Dead ('78) surprised #1 seed Nine Stories, but were not up to the task of taking down the #2 seed immediately afterwards. South Bracket #2 seed MLB 2K7 will meet West #1 Seltzer in the Final Four.
This year, the "People's Choice Award" for most popular Final Four choice goes to Burrito – named on over 1/4 of the ballots. The runnerup for the People's Choice was Final Four entrant Lucid Dreaming. Other popular selections were New Dishwasher, Spring, CIA, Sarah Silverman Show, and Ohio State (?!). The selection committee will surely have Burrito back next year, and may have to consider write-in candidate Ohio State.
Quotable Quips along the Way:
"This guy's a genius!" – thanks.
"This is more intriguing than bandmadness.net" – yes, it is.
Most interesting Championship matchup: CIA vs. Khmer Rouge was predicted by Matt P. of Olympia, Washington.
[Download Johnny Bob's latest bracket]
Intrepid sports correspondent Johnny Bob communicates exclusively via an Asthmatic Kitty issued blueberry device.
Filed under: sports