Sweet 16 Downloadable Bracket
Part II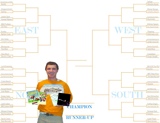 We're down to 16 teams left, and while many entries have been received – none have correctly identified all Final Four teams. In fact – none have predicted more than one correctly. Remember, you may enter more than once (but no more than twice) – if so, please stop reading and email in your revised bracket now – then come back and continue reading.
The East Bracket has been narrowed down to Number One seed The Best Show on WFMU vs. #5 Wild Turkeys who barely survived in their matchup against Jackie Opel. #6 seed Complaint Letters won a second round game against Cinderella hopeful #14 Barber Chair and now face off against #10 The Wire – who surprised in the first round against #7 A Wild Mongoose and dashed the hopes of first round surprise winner #15 Osso Buco.
In the North, almost all games went according to seed. #2 seed Lucid Dreaming survived a first round scare against #15 CIA, and then cruised past Blue Pilot Fine Pt. Pens and will face #3 seed Jose Reyes who easily moved past Russell Brand and Crane Beach. Joining them in the round of 16 are #4 Estate Sales and #1 Stax Records who defeated the only upset winner in the bracket #9 Ray Kurzweil to advance.
In the West, Seltzer met Khmer Rouge in a battle of #1 and #9 seeds that will surely be remembered long after this tournament is over. Seltzer prevailed after several overtimes and will meet #5 Sarah Silverman Show. #6 seed Jordan Jesse Go! quickly got out in front of both cantstopthebleeding.com and kittenwar.com to advance to the round of 16 to face #2 Roger Angell who looked strong in his second round win over Dennis Kucinich.
#15 seed Burrito gave MLB 2K7 for PS2 quite a scare in the first round, and were clearly the people's choice for the Cinderella slippers this year – but the second seeded MLB 2K7 for PS2 did advance and then easily moved past #10 seed (BBC) Peep Show to setup a Sweet Sixteen matchup with the powerful #3 seed Starbucks Lg. Americano who beat archive.org and Kashmere Stage Band. #5 seed Dawn of the Dead ('78) were a surprising winner against New Dishwasher in the second round and face Laser Floyd and Fenway Park conquerer #1 seeded Nine Stories the final game of the South Bracket.
Send your Final Four predictions to:
sports.correspondent.johnny.bob@gmail.com
[Download Johnny Bob's Revised Bracket]
Intrepid sports correspondent Johnny Bob communicates exclusively via an Asthmatic Kitty issued blueberry device.
Filed under: sports