Castanets-Shapes and Sizes '07 Part 5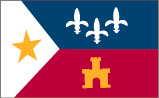 Subject: Lafayette

drivers report #two (JChavez)
the drive to lafayette, LA: 11 hrs
the recently deceased:
wild dog x 2
cat like creatures x 2 (i think one was a small cougar)
birds x 3
unidentifiable mess x 9
today's notable jams:
young people "self titled"
velvet underground "self titled"
lungfish "unanimous hour"
ludacris "chicken and beer"
gastr del sol
movies watched:
the end of star wars 1
batman 1
movie of the tour to listen to so far: batman 1
worst movie: star wars was pretty bad, but i still say that jimi hendrix movie
most delicious meal:
crawfish boil! i'm still full!
least delicious meal:
that nasty pork sandwich from jerry's. TUFF GNARL.
least favorite movie seen in a theater: BREACH was barely a movie at all… just a really expensive nap.
favorite weather so far: the lafayette morning is pretty unbelievable
random shit:
i didn't realize that gas stations sold herbal sex supplements in such bulk! today was my first time ever at a waffle house BLACK SNAKE MOAN today
G Lucas Day off blog
Athens was sweet. got called a faggot by hungry fratboys who wanted my pizza. The show was spaced out and spare. Stayed in a hotel and watched people kick the shit out of eachother on the tv. Gambled my record money away, must borrow a sandwich.
Castanets have discovered a new and extremely relevant way to forecast the future in the tradition of bone throwing and tea leaf scrying: the spam email must make it through the statistically sensitive word filters to pimp their stock tips and dick strengtheners; in doing so they warp words into applicable missives for our day. so far on this trip they have not let us down, to wit:
Cristopher Coopier
"Which the batwing"
Kris Manning
"I at verde"
Rex Drummond
"For reticulum of estuarine"
Amos Clement
"Is profound no martinique"
Shirley Richter
"in segregate on warlike"
Ramon Lancaster
"so mildew of book"
Rodger Rowe
"As concerto do hanukkah"
Aron Holt
"Or crowd or irremediable"
Laci Dean
"Lucky Day"
Deana Gutierrez
"it at porpoise"
Hillary Knowles
"And a debacle"
lucho burletoff
"USA NEW"
Brande Nguyen
"Correct Or No"
Remember: Examining the relationship between the strange name and what advice they seem to be giving you yields even more insight into "how the day could go". 21st century style.
Jesse Ainslie
Six black cats on this bad luck tour. Though, it seems that mode of binary qualification was abandoned, or lost like some segment of time recently removed. And much like the dissolution of good and evil, neither pressing forward nor holding back. They bode well for this collection of travelers, perhaps our collective polarity reverses the contrary blackness of cat, perhaps the feline shades en masse gravitate toward the traveler; companion in social solitude, friend to all and perpetual stranger, such is the black cat. Moving south into mist and marsh, the algal air inducts electricity into hairs of our forearms, shoes come off, blankets abandoned in the night. 'Great grey green' waters set about with cypress trees and murky as the last moments of the mind before sleep. Saw a skunk in a field. Crustacean meal and so many beers, dice games, he pointed out to left field with a sly grin, nodded for the pitch, took it with five fingers, muscles pulling in motions, familiar and confident; his success is assured. His invocation of nothingness, a minute manifestation of true magic as conjured with naught but will. We all took one step back, then another. Accompanied by agents of construed darkness and the revelation of will to the void, this must be the moors of gytrash, the swamps of ignis fatuus, and I think we are all very glad to be here.
RRaposa
Seriously. So much crawfish. Peel that bit. Get some out of that claw. Waking up from the greatest of naps in the humid, heavenly Louisiana just in time for the boil and our one night off. Dice game continues to ebb. Basketball this morning, low hanging hoops, reverse dunks and half court threes. Where were the threes last night? Crane is out in the field this very minute trumpet call-and-responsing with whatever fauna that is. Is beautiful . Whatever is that beautiful and what isn't?
Filed under: tour diary