Sweet 16 Downloadable Bracket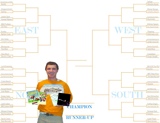 Click to EXpand
On April 4, 1983 Jim Valvano's Wolfpack defeated Houston's Phi Slamma Jamma to capture the NCAA Men's Basketball Championship in a thrilling finale to an amazing tournament run. It was the kind of "Underdog Wins!" moment that one could be excused for running onto a basketball court full of people you don't know looking for someone to hug, unless you are the NCAA!? Since that day, I have boycotted the Men's Championship tournament – although to be fair, the lifetime ban that the NCAA imposed on me three weeks later might have more to do with it than my feelings for the tournament itself.
Each year since, on "Selection Sunday" I have published my own version of March Madness. It is perhaps the strongest field ever this year. There are some clear cut favorites for the overall title- Seltzer, The Best Show on WFMU, and MLB 2K7 for PS2 are all very strong this year. But it would be foolish to discount such strong candidates such as Dawn of the Dead ('78), Estate Sales, or Stax Records. That's why they play the games!
The bracket makers have setup grudge matches in the first round (New Dishwasher vs. Old Dishwasher [South]); possible second round grudge matches (kittenwar.com vs. cantstopthebleeding.com [West]; and possible Sweet Sixteen grudge matches (Barber Chair vs. Electric Chair [East]).
The concept is rather simple. Download the PDF – fill it in, and follow along as winners are announced. The winners for each round will be announced weekly. Email sports.correspondent.johnny.bob@gmail.com with you Final Four predictions by Sunday, March 18, or anytime thereafter if you promise you haven't looked at the winners. All entrants who correctly predict the Final Four will receive a prize for participation – these entrants will be asked to send in their predictions for the rest of the tournament in order to determine a Grand Prize Winner. Grand Prize to be announced. You may enter more than once (seriously you may enter twice…but that's it!).
Send your Final Four predictions to:
sports.correspondent.johnny.bob@gmail.com
[Download Johnny Bob's Bracket]
Intrepid sports correspondent Johnny Bob communicates exclusively via an Asthmatic Kitty issued blueberry device.
Filed under: sports