Favorite electronicish records
1. Pierre Boulez: Anthemes 2
Favorite recording entitled: Boulez: Sur Incises/Messagesquisse/Anthèms2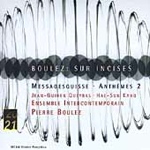 For those of you new to the world of Pierre Boulez, let me give you a quick introduction. Mr. Boulez is one of the most important composers and conductors of modern classical music and also, I have a huge crush on him. The fact that I have a crush on an 81 year old man, I can assure you, disturbs even me, but I swoon in his presence. In recent years, I have stalked Mr. Boulez at Carnegie Hall, on the streets of Paris and at The Manhattan School of Music, in which instances I have successfully taken grainy, poorly lit photographs of the man, and have acquired his petite autograph on my concert program. Unsuccessfully I chased him down a hallway in the hopes of getting a picture with him on my birthday, but I was turned away by his bodyguards. Still my hope and love remain. I have seen/heard Anthems 2 performed twice and both experiences were inspiring, thought provoking and beautiful. This piece sounds like the future of music to me. Set for solo violin and electronics, the concert hall is restructured with the use of surround sound speakers to create a completely unique listening experience. As I understand it, the computer is used in real time, manipulating live samples, and creating loops while at other times the player triggers pre-existing musical material. Move over you rockers with your Line 6 guitar pedals, Pierre is bringing his computer to the gig.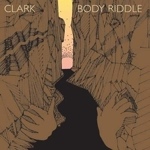 2. Clark: Body Riddle 2006
Dear Mr. Clark,
I love your work and I am totally crushing on you. (I've been known to crush on men 3 times my age, but you are probably not that…) You may borrow my music boxes anytime you like. I have a large collection now, but you seem to have your own… perhaps we could create a music box symphony together? Why won't you answer my emails? Did I say something wrong? Well anyway, you are fantastic. Beat-tastic. When I have a day off, I put this record on repeat all day long and I do not tire of it. That's got to count for something.
With great admiration, Shara Worden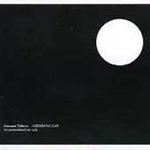 3. Susumu Yokota: Grinning Cat 2001
I found this record back in the day, when I was first getting into electronic music and it completely opened my eyes to a new world. I had listened to mostly soul and r&b music until college, then came my jazz phase, then my tribal punk phase, then my art rock phase. I skipped over electronic music because the only things I'd heard had been that horribly arranged techno played in sleezy night clubs where girls with backless gold tops and too much lipstick went. Maybe historically other records preceded this one in groundbreaking terms, but it was a revelation to me. Susumu Yokota combines beautiful organic sounds with electronic glitches to create these yummy intimate atmospheres. I say, invite some friends over, slip on the Grinning Cat, pour a glass of wine, and discuss.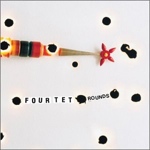 4. Four Tet: Rounds 2003
I know you already know about Four Tet, but I couldn't leave them off the list. This record still rules!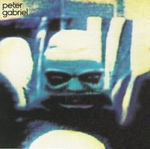 5. Peter Gabriel: Security 1982
This is absolutely one of my favorite albums of all time. Peter Gabriel has been a forerunner in the pop world in the combination of electronic sounds with organic ones. This album seems the perfect culmination of years of experimentation and beautiful songwriting. The instrumentation is largely electronic but also he employs extensive sampling (which according to Wikipedia was through the use of the Fairlight CMI).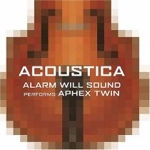 6. Alarm Will Sound performs Aphex Twin: Acoustica 2005
This album hits two birds with one stone… wait, MBD is not into stoning birds, so nevermind that analogy. But anyway, we love Aphex Twin and we love these crazy people in Alarm Will Sound who translated this music in such a way that it can be performed acoustically! (However, I am completely un-envious of the person who did all that rhythmic dictation. ) This album contributes to the curious dialogue between classical music and popular music. While there is a long history of classical music borrowing from folk melodies, and vice versa, this takes genre melding to a new level. By changing timbres and translating the electronic blips and bleeps to marimbas, vibraphones, violins and percussion instruments, here Aphex Twin seems more in the family of Steve Reich.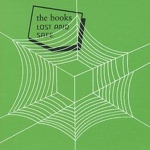 7. The Books: Lost and Safe 2005
The Books are so cool. We all should buy their records. These two dudes make everything all themselves from start to finish. Super musical and creative. Lovely collages of sounds both found and sampled from voices to videos, picked strings and picked banjos. I found out how small the world is in realizing that my pals in the classical-ish musical group Clogs toured the UK with The Books. Dang I wish I could have been there!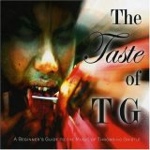 8. Throbbing Gristle: The Taste of TG 2004
Lest you think MBD is all about butterfly glitch and fairy tale strings, (not that there is anything wrong with the romantic side of life, but we also like to investigate the shadowy crevices…) I recommend the British experimental music group, Throbbing Gristle. TG was formed in 1975, and thus was born the industrial music genre. This is not music for the feint of heart. If you have something in your soul that needs exorcising, then turn up the volume. TG's music often uses highly repetitive rhythms, pre-recorded samples and distorted vocal effects. Respect!
[Watch: Live footage of "Discipline"]
[Listen: MySpace]
Filed under: main