dancing
By
Rafter
Saturday, March 3rd, 2007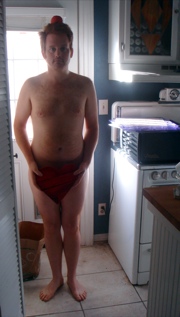 i want to go out dancing. i want to shake my rumpalump, boogie with my belly! wiggle my legs n arms to imaginary beetz! i've never felt this way before, and it feels really good. dancing is really fun. it can make you feel good if you were feeling bad. it makes me sweat and smile. so good! it feels sexy and fun and free. and when my big band of 10 friends is playing, often times there are a lot of people dancing! i love it, and i love how alien it feels after being at years and years of undierock shows where people are standing around w/folded arms looking totally under control. let's have color! let's have freedom! i feel like we're all riding a wave of freedom rock….
so here's an invitation to all you who aren't dancing – an exhorting – an umphalumphing – byobooty>? and you're probably all gentlemen, you non-dancers, or at least almost exclusively… because ladyfolk seem to do a lot better w/dancing than manfolks do… non-dancers, i would say 2 u =- i've felt your pain! non-pain!
i've felt frozed by body image, & wanting to look cool / not dumb, & feeling like people would look @ me funny, not wanting to be all sweaty etc. i think if there was a reason to not dance, i used it at some point in my life… but now that i'm on the other side of the dance decision, i feel obligated to send a message back – - – - – it's better over here! freedom in your body! movement and celebration! exercise! flirting! laughing and rumpalumping! life is better when you're dancing..
there's a reason it's been an important part of our human culture for so long! its a shame ( a real shame ) that our culture right now is not very much integrated with it (i'm talking our undie music / art culture, so ripe w/selfconsciousness and discomfort!). seems like so many of us love music w/all our hearts but hate dancing! or us musicians really would like people to dance to our music but can't dance ourselves!
but i've been thinking… a little…..the great thing about culture is that we're all participants… so what we do affects the culture we're in… so! let's dance! it feels great. it is healthy! and full of heart! let's celebrate our lives! awesome.
loving you,
rafter
p.s.i think w/dancing comes some radical decisions about accepting your body! which is great! because dancing is a physical thing, no way around it. and when you dance you're integrating yourself into rhythm, into life, into a flow of music energy radness! and accepting your body and celebrating it is a really powerful and awesome thing. yes!
Filed under: essay