My Brightest Diamond
Tonic in NYC, Jan. 17 2007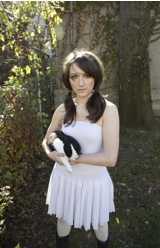 The immediate distraction at the recent My Brightest Diamond show in New York is the number of people I know. An anxious thought seizes me: Is this another night of Friend Rock? Or is it just a small world after all? I take stock of the familiar faces, and try to be cordial. Shara's lawyer's husband is there, who also happens to be my lawyer's husband. What a coincidence. The My Brightest Diamond string quartet, mingling in the corner, has toured with me in the past; they are like old friends from summer camp. We briefly nod hellos, but they nervously turn back to their scores and their set lists. College friends show up, with exotic girlfriends; the fashion designer friend is there, checking the weave of the t-shirts at the merch table; there is the documentary filmmaker friend, the avant artist friend, the video artist friend, the performance artist friend, the Presbyterian pastor friend and his wife, who I also count as friend. It feels like a high school reunion. I would like more than anything in the world to hole up in the coat check and read the New York Times Magazine, but that would be unfriendly.
Opening the set (with unexpected gusto) are violinist Soovin Kim (a musical prodigy who also happens to be a Cub's fan) and pianist Jeremy Denk playing selections by Charles Ives. This, thankfully, dampens the party vibe in the room. All eyes (and ears) are turned to the rapid, successive, wild, and glamorous twists and turns of what Ives himself called (self-consciously, deprecatingly) the "weak sister" of violin sonatas. Kim and Denk obviously disagree, and tackle the performance with unflagging delight. Notwithstanding the sublimity of Ives, it is also just nice to hear this music in a club, or any music in a club, without the aid of a P.A. Am I a simpleton for making note of that small appreciation?
When Gabriel Kahane (talented pianist, singer-songwriter, composer, actor, and humorist) takes the stage (with the aid of the P.A.), we are taken out of the music academy and dropped center stage in some avant-garde off-Broadway piano bar. Some of his songs are deceptively pretty: piano pop ballads that, at first glance, resemble something by Elton John, but the key changes and time signatures suggest the dexterity of someone who may have spent his formative years at Interlochen. So many notes! To be fair, Gabriel's resume rivals anyone's in the room (except, of course, those of Kim of Denk). His father is a reputable conductor, and Gabriel's own achievements include commissions, awards, and badges of honor in musical theaters and uptown orchestras across the country. But no one in this room is taking stock, it seems, except me. Gabriel's last piece, a meandering lieder based on Craigslist entries, is his greatest achievement. Later, by the bar, I tell him it would make a stunning Broadway show. Better than Cats. I regret saying it. Gabriel looks mortified. Have I dampened the party vibe even further?
My Brightest Diamond's Shara Worden has recorded, performed and collaborated with me so much for the past few years that I often take her for granted. This is the real shame of being so entrenched in the work of music: you often fail to stop and relish those around you. For tonight, surrounded by her friends and fans, I am reminded of the hushed awe and astonishment her music provokes in the listener, myself included. Shara is one of a kind. With the elegance and responsibility of a great performer, she reconciles the academia of Ives with the jousting of Broadway without even trying. Her songs draw you in, settle in your gut, stick with you for days, but without the ordinary flourishes of pop music, or the formal pageantry of classical music. How does she do this? I think it has more to do with what she doesn't do. Her voice does not carelessly amble to virtuosic heights, like so many other capable singers, but she will turn an extraordinary, operatic phrase in the subtlest of places, just to let you know that she can. Her songs aren't showy, explicit, or commandeering, but, rather, they confide in you mysterious secrets that make you feel set apart for a special task. By the end, you are enraptured in a world of queens and close neighbors, workhorses and rabbits, crystal glasses and cardboard boxes.
For tonight, Shara plays a scattering of old guitars, a thumb piano, and a grand piano, accompanied only by strings. I've heard some of these songs a hundred times over the past two years, with a hundred different configurations: bass, drums, Wurlitzer, wine glasses, beat-box. But tonight, the clarity and austerity bring to light the versatility and quiet virtuosity of the songs. Some of them ("If I were Queen" and "Gone Away," especially) feel classic—songs that may have been sung by Frank Sinatra or Nina Simone. I am also struck, of course, by Shara's prudence for string instruments. Unlike my own scampering arrangements, hers take their time with the push and pull of the tides, honoring silences, generating dreamscape chord patterns that pull you down below sea level. At the end of the night, after the jibber jabber of Ives and off-Broadway and old friends, we are all relieved (and rejuvenated) to have shared those silent underwater spaces in Shara's music. To many of us, it is this music of the quiet, solitary imagination that sticks with you for life.
photo credit: Matt Wignall