Short-fused Sports Correspondent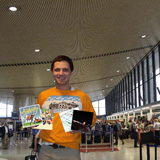 Awhile back I had committed to Johnny Bob the role of primary sports correspondent for the Asthmatic Kitty sidebar. So when I posted Jai's hockey player review I knew I might be in for some heat.
Here is how it went down.
—–
Johnny Bob:
What a hack [referring here to Jai Agnish]! Most of the quotes in his story didn't even come from his own interviews! Does he have an Asthmatic Kitty blackberry?! Did you get him one too?! If he got to go to Pittsburgh to cover this story – that is the last straw!
I went to the will call at Logan again this week looking for tickets to Islip MacArthur to cover the Columbia 300 Classic. There weren't any tickets for me!? I know you have received my requisitions for tickets to cover the PBA tour this winter? I haven't been to a single event yet! I've got to get to the Dick Weber Open in mid January (yes!, I'll send you a requisition for tickets and expenses – but I've got to know that you're going to be able to get me in to John Wayne Airport – Orange County, I not welcome at LAX anymore. Airlines!)
Also, I haven't heard back from you about the Pepsi Championship, March 14-18 in Indianapolis? Can I stay with you?! There's a real lull there after the Geico Classic in the beginning of February – so I really need to be in Indianapolis from 2/8/07 through the end of the Pepsis! And! you know how I really need to do the research ahead of time anyway! So it will be best if I just stay with you for that time in Indianapolis! I can't be keeping up hotel guests all night! Someone's paying for those rooms! (Hopefully Asthmatic Kitty, huh?)
Alright. Be well. Tell Jai if he'd like to send stories your way in the future regarding the NHL, he should at least really have me fact check them at least! There's a couple of inconsistencies in his writing style that I should look into!
—
I responded:
you are our priority correspondent. how can we make this up to you? Please understand, you are our primary sports correspondent, and I will do my best to immediately reassign Jai to another department, unless that is, you are willing to give your blessing on him as an assistant correspondent.
—-
Johnny Bob responded:
Jai doesn't need to be reassigned. I'm sorry for my outburst earlier! Wow?! What a morning!
I was a little out of sorts earlier! Wow! What a day!?
I would really just appreciate it if I didn't have to demand editorial control over my own underfunded department!? It is difficult to meet the demands of the "Asthmatic Kitty machine" when I cannot even count on airline tickets being correctly labeled at the will call counter – I checked in at Logan again. They did have will call tickets for me to JFK!? I know I asked for Islip MacArthur (and for good reason!). Also, do
I need to remind you how to spell my name?! They had it down as Bob Refsland!? I took quite a while to explain to them the clerical error, and they wouldn't give me the tickets! I hope you can be reimbursed for them?! I know you don't need it, but I worry about you boys. Are you eating enough?!
I forgot to mention – I did receive the American Express gift cards that I asked for! Thank you. Christmas shopping can be a real drag without them!?
—
Photo is Johnny Bob at Logan Airport.
Filed under: sports