Watt's Tree Farm, Indianapolis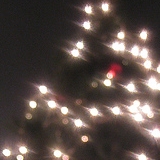 I brake for taxonomy.
On my way to Bloomington, Indiana for classes at Indiana University, I love to stop at Musgrave Orchard, where a family harvests apples and presses them into an excellent cider. The apples are good, the cider better, but what I adore about going into the little cabin of a store is talking to Andy Hamilton, one of the orchard's proprietors. Once, I made the lucky mistake of asking him about a particular breed of apple they didn't stock (the elusive Honey Crisp). What resulted was a 20 minute discussion about breeds of apples. It was glorious. I can't even remember the names of the apples, I just loved that someone out there had named each breed, and that Andy Hamilton knew so much about them.
This weekend, my family went with some friends to nearby Watt's Tree Farm for a Christmas tree. At first, it looked typical: an army of minivans and SUVs emptied of their families, who themselves were wandering the hills of the farm, darting in and out of trees, occasionally pointing and running, matchmaking.
Then I asked one of the workers about the prices of the various trees. The man, bundled warmly in winter work garb, gave me an Andy-Hamilton-like explanation of tree breeds. I was entranced. Eyes aglaze with taxonomy, I then proceeded to the hills and wandered their green and brown expanse. Families had already ravaged the areas closest to the road, so after tripping over stumps we found ourselves in a quieter, fuller part of the farm on the outskirts. The trees were so dense that I felt like a tourist walking on the streets of a parallel dimension Manhattan populated by pine and fur trees instead of trendy sohoians and businesspeoples. It was a surreal tree's Twilight Zone: even though I was going to ultimately be one of the tree's demise, they ignored me, and all the while I felt like they could step on me at any moment.
I tried to recall the names the worker had expertly rattled off, but I had already forgotten them. Still, it felt good brushing the needles of each tree, knowing that humanity had given them a designation, a place. I had my 7 month old daughter with me, and as she stared at the trees' branches from the toasty safety of her pink, puffy snow suit, I was excited to think that perhaps one day I could teach her the trees' names, reading them from a cheat sheet as if I'd memorized them for her.
As my daughter and I gazed at one particularly tall and full tree – a majestic (and expensive) Concolor Fir – I felt reflective but sad. Maybe taxonomy is a way we control our world, a means to order things so we can consume the right thing when and how we want. But when we found the tree we thought destined for our living room – a tall but stately White Pine – I also felt a strange kinship, as if someone bigger than me had categorized me in the same way we have designated that tree.
When the worker wrapped the tree into a net for the haul home, he gave me an unsolicited $5 discount – the tree had a spot devoid of branches on its bottom we hadn't even noticed, or cared about. But, he said as he tightened the net, we'd picked a good tree. People often overlook the White Pines, he lamented, because the branches aren't as firm as a Douglas or Frasier Fir. But, he continued, the best Christmas trees are the ones that are carefully and lovingly decorated. Maybe it was the baby in my arms, but I guess he figured we wouldn't have so many ornaments and lights that it would overwhelm the softer branches of the White Pine. (The worker said that with any live tree, we should pour hot water into the tree stand as soon as we got home, to liven the sap.)
The tree sits in our living room now. He or she is taller than we thought, and for the last few days it has been drinking an enormous amount of water. My daughter and I fill up the tree stand with two pitchers of filtered water every morning. The tree has a great view of our street, and our street it, and I feel like it's a part of the family. I know that the tree is now in a state of dying, slowly. It is our fault. It began when we set the saw to its trunk. But as it progresses through that tail end of taxonomy, through the cruel process of our inclination to name, control, and then consume things, I feel that between now and then it will look beautiful. As it was once rooted in dirt, it will now root itself in our memories. It will become a part of us, as it once was the earth.
This morning, when we watered the tree and my daughter slowly ran her tiny but long fingers overs its white-green needles, I knew that when she touched the tree, she touched it purely, without categorization. She is too young to have been given names to apply. I envied that. I wondered if the tree of life we stole from in the garden was what cursed us with taxonomy, if that's what makes us old. As I watched her, I decided that when I die, I want to die like a Christmas tree: a nexus of life while dying; being destroyed but yet creating.
Tonight, after we decorate this stately White Pine, my wife and daughter will fall asleep in front of it, watching the multi-colored lights glitter between the tree's needles like stars do in and out of our atmosphere, and the corny ornaments slowly spin back and forth on their axis. It will be the first Christmas tree my daughter looks at – really looks at. And I think this tree, more than any I have ever seen, deserves that honor.
[Musgrave Orchard]
[Watt's Tree Farm and Train Shop]