Portland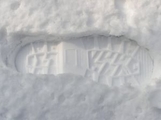 Portland's first snow came last night and you could feel the city's collective heart start back up and begin to pump in time with all the taxi meters and noise bands playing in basements and infinite ripples on the banks of the Willamette. People on the MAX trains talked more. In downtown, tough and hardened men stood below lampposts and street lights and stared up into the yellow-lit falling snow, smiling.
All day yesterday we were peppered by a light, dull hail that looked like tiny beads of Styrofoam. It didn't stick and it didn't knock holes in rooftops or break any car windows. It was a disappointing hail, intermittent and half-hearted. The snow to come wasn't vigorous, but it brought with it wintertime, and after a smudgy grey autumn, winter was instantly exciting.
The first snowflake I saw came floating down towards me somewhere between 5 and 6 pm. I don't have a watch or a phone so I exist in a weird, nebulous non-time. The sun sets around 5; it's properly dark by 5:30. These are my eveningtime parameters.
I got off the bus as it began to fall and walked in step with a bored looking kid with a shaved head and a giant parka who'd been sitting next to me for 45 minutes. On the bus, we hadn't talked the whole way across town, but as we hiked up the big hill on 50th and that first little flake came down, we locked eyes and smiled and I mouthed the words "it's snowing!" He was talking on his cell phone and didn't reply, but in his eyes shone a great, bright innocence. This was an innocence rare and pure and good. There was no posturing masculinity, no "who's this bum?" attitude, and no fear at all of persons unknown. In that moment were we two baby brothers playing in a crib, laughing at having recognized our own shared humanity for the first time. We exist. We are stuck on this raggedy, spinning rock. It's not so bad, is it? All of that was encapsulated into a flicker of light in this kid's eye.
When I got home my housemates were figuring out "O Holy Night" on guitar and singing together in the basement. With the shades drawn to keep in the heat, they hadn't seen the snow yet. I felt like a messenger of peace, "everything is okay because it's snowing!" And it was. We walked out to the grocery store, bought wine and fresh vegetables, and cooked together, enthused and full of life after some heavy tribulations all week.
When I awoke this morning, the streets around the place I'm living were white and clean and quiet. The snow that had fallen all night lay undisturbed, covering cars and roofs and porch eaves and chimney mouths and flocking the walnut trees and bare blackberry brush up and down the street with a trim of cotton. This snow had a blue whiteness, a whiter than white kind of glow that made the neighbor's white Toyota look beige in comparison. This was Portland's first snow of 2006. I wish you'd been there.
BIO: Adam Gnade's (guh nah dee) work is released as a series of books and records that share characters and themes; the fiction writing continuing plot-lines left open by the self-described "talking songs" in an attempt to compile a vast, detailed, interconnected, personal history of contemporary American life. Check out recent writing here and songs here. Contact: adam@asthmatickitty.com
Filed under: city