Recent Work by Erwin Wurm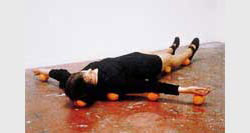 I Love My Time, I Don't Like My Time
There is something about absurdity that when faced with it one either laughs and walks away, or stays and asks the simple question 'why'? An absurd proposition is what one finds in encountering Erwin Wurm's art. His work falls under the domain of sculpture, though the methods by which he achieves his concepts have their outcomes in interactive performances, photographs, videos, and drawings. This is due to the essence of Wurm's work, which is not an objective goal but the questioning of the nature of sculpture. "I am interested in the object, in liberating it from its field, giving it a new validity and meaning." Like the work of a philosopher, Wurm believes that the artist's role is to present a personalized view of mental and social constructs.
Wurm's mid-90's works entitled 'one minute sculptures' show people in awkward and unreasonable moments giving us glimpses of humans at their most frail and peculiar. Two legs jut out of an open window, a nun bends her body to rest her head against a wall, a banker has asparagus stuck in his nostrils. These performances are documented as color photographs and videos, yet are also presented as drawings and instructions in gallery settings that allow visitors the opportunity to realize the one minute sculptures with their own bodies. Instructions might follow as "lie on the

balls–no part of the body should touch the ground," and "put the felt markers on top of your shoes, hold this for one minute and think of Rene Descartes." Wurm's ideas find their activation in viewer engagement either mentally or physically. Through seeing and mimicking one begins to process the philosophical quandaries presented and witnesses absurdity as a tool that brings us to understanding.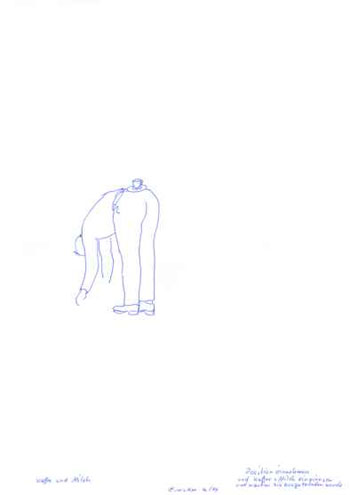 [Frye Art Museum]
[Wurm at the Jack Hanley Gallery]