Castanets-Phosphorescent '06 tour stuff .6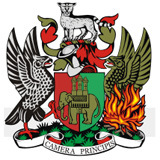 Coventry
PART 1
There is much catching up to do that I have no time for right now. Bummed. In Exeter after a sweet and prolonged evening with the Viking Moses, Meara, Alex, George and the amazing staff/promoters at the Tin Angel in Coventry. Went back to Brendan's house in Birmingham and tracked a bunch of mud around. I woke up way too early feeling way too bad and stumbled crazy eyed and torn shirted to the first place that would take me. Had (sat in on?) probably the most vulgar and surreal conversation I have been fortunate enough to wake up to in my life with the proprietor of the hotel/pub and his mates. Tried to crawl back in bed around 10, but the beds have not been kind. Either them or me's been cheating my soul of some dreams and I am severely bummed about that.
Really weird drawing of Scout in the bar. Really kind folks behind it.
Exeter is beautiful. I can barely see it, but I feel it.
Catching up soon on the details and the Byron quotes. Go see V. Moses and Meara on their tour if you're around.
Loving everyone that I don't abhor…
PART 2
Real quick then. Played an Elyse/Bert Jansch cover (Hi Amy Annelle!) last night for the first time and it felt great. Also, remembering a story that Jana told at her last Tonic show about getting a sandwich from the bodega by my house and a kid stepping on her toe and apologizing and Jana saying "It's OK" and the kid saying "You look mad" and Jana saying "I'm not, it's OK" and the kid saying "You look mad" and Jana saying "I'm not" but thinking maybe she always looks mad and then telling the crowd at Tonic that she was sorry if she looked mad to them cause she wasn't and was in fact having a great night and I would like to say also to folks at and/or putting on these shows who may question my/our appreciation of their greatnessess-
I am not mad.
(conversation at the mall yesterday between Adam and some (8) toughs.)
Toughs: "Cut your hair mate"
Adam: "It take all of you to think of that or just one of you?"
Pause.
Toughs: "Mate, cut your hair"
[First song of the London set is on the YouTube]
Filed under: tour diary