1906 San Francisco Earthquake Commemoration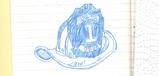 Oakland Museum of California http://www.museumca.org
Description of 1906 Earthquake Exhibition
About 100½ years ago a 7.8 magnitude earthquake (with some estimates placing it as high as 8.3) shook the San Francisco Bay Area, toppling buildings in what was then the American west coast's largest city. Even worse though, a fire broke-out that ultimately devastated 80% of San Francisco and killed at least 3000 people. To commemorate this disaster, the Oakland Museum of California held an exhibition this summer from April through August. I was able to ride my bike over there and participate in the exhibit during its final week.
Unique displays included:
* Old tents that families had lived in after their houses had been destroyed.
* A shaking platform "ride" that simulated a 4.5 quake that half-tempted me into thinking that earthquakes are "fun."
* Trolley transfers from 5:12am April 18th 1906 (the exact moment of the quake).
* A display titled "Make Your Own Seismogram" which involved something that looked like a large weighing scale, an invitation to jump on it, and a read-out at eye-level that indicated the "magnitude" of your jump on the Richter Scale. (I didn't get to try this—some hefty people were hogging it!)
Some reasons why the fire got out of control:
* The water mains that supplied all the fire hydrants were broken during the quake. Only one at the top of a large hill (corner of Church & 20th St.) worked. Because it continued to work, some consider it a miracle, and each year descendants of the firemen hold a ceremony in which they spray-paint this "miracle fire hydrant" golden.
* The San Francisco fire chief was killed during the initial earthquake—a building collapsed onto the fire department's roof as the chief and his wife slept in their bed.
* This fire chief was one of two people in the entire city that had access to dynamite, but he was the only one who knew how to use explosives in order to set-up proper firebreaks. Supposedly, the other guy with dynamite access started detonating explosives sort of randomly which did more harm than good (it caused the fire to spread and people were even thrown into the air!). It turned-out he was drunk. Eventually, someone sober and qualified was given access to the dynamite—an effective firebreak was finally created by dynamiting the entire street of Van Ness!