World Series Game 4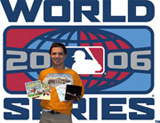 Met Sac Fly in St. Louis tonight. He thinks Jeannie Zalasko looks more like Rene Russo everyday – I can't disagree.
I had a picture of myself at the game – SacFly thought my hair looked like Yahoo Serious' hair.
Thanks again to Asthmatic Kitty for this Blackberry – SacFly hadn't seen Bob Seger singing America the Beautiful in Detroit for game one so I showed it to him from a fan's video on youtube.com.
3-0 Detroit middle of the third. Tiger bats have been looking good early. Sac Fly has been comparing players in the World Series to Sopranos characters. Magglio Ordonez as Fiorio, Sean Casey as Richie Aprile, David Eckstein as Jackie Jr., etc.
Met up with 'Lil Two Bagger and King Ghidorah (Editor's note: the other King Ghidorah). KG had a dream that DutchKo was having a "cell regeneration" party in lieu of a birthday party and I was invited but she wasn't – and she was PO'ed. I took the school bus there with everyone else in her dream.
The Mayor looks more like D.B. Sweeney everyday.
3-2 Tigers in the bottom of the fifth. Lots of good defense and aggressive baserunning. Scott Rolen taking the extra base on the 'single' to left setup the second Cardinal run.
F-Rod strikes out J-Rod to end the sixth with runners on the corners. Talking about Zumaya trying to turn the DP in game 3. 1-5-3! We decided we're dying to see the 5-2-6 or 5-2-1. Can't think of a time we've ever seen such a thing. Com'n Elias – make sure you tell me when I do when the last one was.
With Yadier like lasers! Molina in Chief! Molina in Chief!
The RECAP rap The RECAP rap a synopsis of a summary '06 World Series of a RECAP rap RECAP rap
Did JZ retire to feel like MJ or John Elway? If by comeback you mean buying a bunch of car dealerships.
MLS Entry: St. Louis Tacos
Curtis Granderson slipping Eckstein a double.
Relievers 'throwing away' runs.
Preston played snazzy D, and just gave them the lead 4-3.
Paul Giamatti Intro Dodge.
Didn't Monroe see Eckstein homer to the wrong side of the foul pole in the first inning?
Cardinals 5, Tigers 4
Intrepid sports correspondent Johnny Bob communicates exclusively via an Asthmatic Kitty issued blueberry device.
Filed under: sports