Castanets-Phosphorescent '06 tour stuff .1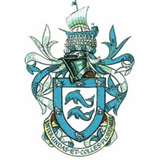 Brighton: Ferried over from Belgium. Sea France was on strike so we were stuck in the van for four hours with the prospect of missing the show. Finally found a ferry that would have us. Jessie told me we were near the location of the first overseas exporting of coffee, but I've forgottten the details on that. A girl on board asked Adam if he was with those other two guys, "you know, the one with the handlebar mustache" and if we were a band. Turns out she thought we were The Killers. Adam told her otherwise, but when she saw Jessie later she asked asked him for an autograph just in case. I think she still wasn't sure.
Drove from Dover into Brighton through some beautiful towns. Got in with no time to soundcheck and no drink tickets. First band was incredible. We were given twenty minutes to set up and play. Things were a little hectic. First time playing with the rented gear and stuff was blown out with no time to fine tune. Started out noisy as hell, pedals were cutting out. I ended up putting down the guitar and wandering into the crowd frontman style for run through Cohen's "Lover Lover Lover" and that was about it. Played one new song on Jessie's guitar and the set was cut. Pretty rowdy start. It would've been great to have more time. Met a sweet dude from Kansas City and the kids from the first band were extra nice. Somehow, neither our guarantee or our place to stay came through, but I don't think it was the promoters fault or anyone's really. Scribbled a beery napkin poem for a west coast friend "I want to feel your ribs" etc… before Meadows and I headed out to find the Brightblack kids (playing across town) for reunions, revelry and some hotel room floor space. They were long gone probably blissing out on cable TV and ample towel vibes. 30 phone calls and a couple of hours later we ended up at a lovely couple's (Joe and Joe) place and crashed the hell out. Went for a jog this morning, talked with a brilliant, brilliant old woman over beans and toast, bought Jan Kerouac's autobio instead of a Steeleye Span record, had some coffee and got some hard blues on the way into London. There's that.
Also, Matthew has decided to call his set "The Hour Of Vengeance".
Listening to: Autechre-Confield
Filed under: tour diary