World Series Game 2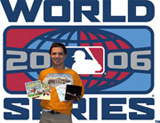 John Cougar Mellencamp played his Chevy song live tonight before the game…Bob Seger was better last night, playing electric piano and singing about America. Either way Kenny Rogers is the real star so far through five scoreless innings. 'Lil Two Bagger calls him 'Kenny the Camera Puncher', I prefer 'The Gambler'.
The Mayor had his first hit in a week and a half to drive in the 3rd run in the fifth inning, and the Tigers lead 3-0. Pudge however, doesn't have the excuse of having been injured in the first game of the League Championship Series and remains hitless in 17 at-bats.
'Lil Two Bagger had a dream last night that our mutual friend Fungo worked for the Tigers and got LTB on the team. LTB was the designated hitter, and got two at-bats. After the game, a reporter asked him about the game, and also 'How did you get on the team?'. As often happens in dreams – LTB couldn't remember how he had gotten from Point A to there.
The Gambler is scheduled to pitch Game 6 of this series. Having pitched 8 shutout innings tonight, and not having given up a run this postseason – I feel reasonably confident that if the Tigers only win once in St. Louis I'll be writing an entry about Game 7 a week from tonight. Rogers seems to be "willing" his team to victory – in a way much more tangible than Jeter. Somewhere in here I've got to mention that I own a 'found cassette' of a gentleman named Wayne from somewhere in the Pacific Northwest entertaining his drinking guests with a song on the acoustic guitar. The lyrics? "You picked a great time to leave me Lucille" He never notices. Truly entertaining stuff.
– LAST PARAGRAPH CENSORED BY EDITORIAL STAFF–
Tigers 3, Cardinals 1
Intrepid sports correspondent Johnny Bob communicates exclusively via an Asthmatic Kitty issued blueberry device.
Filed under: sports