World Series Game 1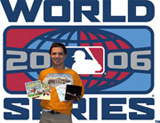 Greetings from Detroit, the Great Lake City!
Johnny Bob and 'Lil Two Bagger in attendance tonight. Went out for a nice meal of cheesesteaks and calzones on Asthmatic Kitty's dime before the game – thanks for that, and the Sidekick from which I type – now if they'd only get me some real press credentials, we would be upstairs looking for Ernie Harwell.
Verlander has somehow cruised through the first five innings striking out eight and giving up four runs. The more I watch, the more amazed I am that the best hitter in baseball (Pujols, of course) had one RBI in a seven game series against the Mets. That's the real damage so far, the two run shot by Pujols against Verlander in the third.
Reyes on the other hand hasn't given up a hit since the first. I'll get back to this in a bit – and it will be like I was never gone. See! I taught 'Lil Two Bagger that his Detroit Tigers hat has got to cover the bangs in the front – I miss the old days when he'd let me cut it (not that he would be 'bangless') – I just miss doing it. Either way, I like the cut of his jib, not the cut of his hair.
Verlander threw away the ball trying to pick Pujols off at first, and Edmonds just made it 5-1.
7-1 now, going to the top of the 9th. LTBagger has been trying to convince me that this is intentional by the Tigers because they know they can sweep 4 games from the Cards at any point. I'm completely objective (obviously) as a journalist, but I'm really rooting for Detroit and not just because SS (Safety Squeeze?) hasn't recorded an album for Missou yet – but because I hate the Cardinals (there's that journalistic objectivity again) for eliminating the possibility of a Mets/Tigers World Series.
Reyes was great. Tigers looked flat after a week off. Let's hope the bats wake up tomm. night.
Cardinals 7, Tigers 2
Intrepid sports correspondent Johnny Bob communicates exclusively via an Asthmatic Kitty issued blueberry device.
Filed under: sports